SMS and WhatsApp Electricity Scam: Many users are receiving messages on WhatsApp from unknown numbers which claim that users' electricity, telephone or other connections will be disconnected until they contact a certain number. You will be surprised to know that many users in India are receiving such messages where scammers are threatening to cut off their electricity connection if they do not contact any number and follow the instructions. We would like to caution you through this news to be alert from such messages. These scammers can empty your bank account in a jiffy. Let's take a look at the message people get.
38-year-old businessman from Kolkata got these SMS
Soumya Sengupta, a 38-year-old businessman from Kolkata, told The Indian Express that I received the first message on 30 September and then the second message on 2 October. My mother also got a similar message. Our electricity bill comes with a huge amount so I thought maybe it was right. I CESC [कलकत्ता इलेक्ट्रिक सप्लाई कॉरपोरेशन] Checked the website where I usually pay the bill, but got the message "All dues have been paid" from the website. That's when I got suspicious that it was a scam. Sengupta further said that in two separate messages sent to Sengupta, it has been said that your electricity will be disconnected at 9:30 pm as your previous month (sic) bill was not updated."
This scam is happening on WhatsApp too
This scam is also popular on WhatsApp. Anthony Khachaturian, a 41-year-old freelance writer, said that I received a message on September 26 that read "Please update your bill. Dear consumer, at 8.30 pm (sic) tonight your electricity will be disconnected from the electricity office, because your previous (sic) ) Month bill is not updated, please contact our electricity officer [फोन नंबर] Contact us immediately (sic) Thanks."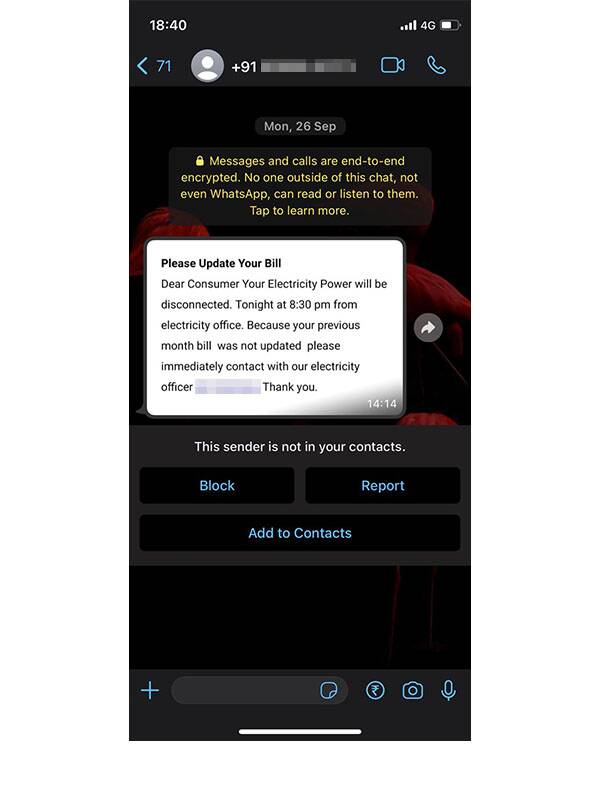 Khachaturian said that I immediately recognized that it was a scam. I have not received any message on WhatsApp from any of the distribution companies in the cities. Anyway, when companies use WhatsApp, it has a logo and that message comes from an official account. My question is, who would I call if I didn't have accurate knowledge or tech savvy and I got caught in a scam? Would I have called the distribution company, or would I have called the police?
be careful
Sengupta and Khachaturian identified the scam, but it is possible for others to get caught up in these scams. In such a situation, people need to be alert. Along with this, we should warn our family, friends and colleagues from scams like this.
Sundar Balasubramaniam, Managing Director, India and SAARC Region, Check Point Software Technologies said, "Users should be careful while downloading the application, ensuring that they download the app only from Google and Apple stores. Refrain from downloading or clicking on unknown links that come through email, SMS messages or other messaging applications.
Also read –
5G Network in India: Jio will give unlimited 5G data to these users! Activate like this, read full details
These 5 mistakes become the reason for the explosion of the smartphone, do not forget to do this work!