France's elected head of the country, Emmanuel Macron, on Tuesday revealed that an international coalition against Islamic state in Syria, Iran and Iraq should widen its prospects to fight against militants in Gaza, Palestine.
Macron gave no details on how the US-led coalition of dozens of countries, of which Israel is not a member, could be involved. His advisers said, however, that the coalition's participation would not necessarily imply boots on the ground, but could include intelligence-sharing.
Speaking alongside Israeli Prime Minister Benjamin Netanyahu in Jerusalem, Macron stressed that France and Israel shared terrorism as their "common enemy". "France is ready for the international coalition against Daesh in which we are taking part for operations in Iraq and Syria to also fight against Hamas," he told reporters, referring to Islamic State. Macron, who warned against the risks of a regional conflict, also said the fight against Hamas "must be without mercy but not without rules".
Macron's office confirmed that the idea of a coalition was drawn by the motivation of peace and that France was able to discuss the areas of problems in Israel and Palestine against a common enemy, Hamas. "The international coalition against Daesh does not limit itself to operations on the ground, but is also involved in the training of Iraqi forces, the sharing of information between partners, and the fight against terrorism funding," it said. "A Palestinian life is worth a French life, which is a worth an Israeli life," Macron said, repeating the need for a two-state solution he said was necessary so Palestinians don't follow the "mirages of the most radical terrorist groups."
French President Emmanuel Macron and Palestinian Authority President Mahmoud Abbas. Wafa.
More About the Coalition
On France's trip to Israel and Palestine, Emmanuel Macron announced the need for the world to unite against ISIS and Hamas. He said "situation in Palestine is more than worse" and called the entire world for help. Doing so he revealed his aspirations for an international coalition against ISIS and Hamas, optimistic enough of elimination two dangerous terrorist organisations and restoring peace once again. Israel is not a member of the anti-IS coalition and Macron's proposal to widen the coalition's objectives to include Hamas could allow western powers greater influence over how the Gaza-based group is tackled. Some western powers have concerns about leaving Israel in sole charge of fighting Hamas, since an unconstrained campaign has the potential to turn into a regional conflagration with reverberations in European capitals.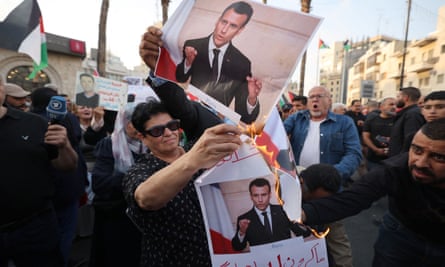 Palestinians in Ramallah burn posters of Emmanuel Macron during his visit to Israel on Tuesday.

Getty Image
Macron's proposal would probably have to include discussions about what would happen in Gaza after Hamas was defeated, including whether the Palestinian Authority, based in the West Bank, could become responsible for administering the Gaza Strip. A similar group exists which was formed by the US in 2014. The US-led coalition fighting Islamic State was formed in September 2014. A similar Nato coalition was created to fight the Taliban after 9/11. The coalition against IS in Iraq and Syria has, however, changed from a largely military operation to one that helps local partners by providing reconnaissance and intelligence. The US partnered mainly with the Syrian Kurds to defeat IS in Syria, a decision that was controversial with Turkey, its fellow Nato member.
While we think this might be a legitimate solution, some think it might not be practical enough to have an international coalition for Israel-Gaza issue.
Analysts said while greater international co-operation was needed to address urgent matters such as aid delivery to Gaza, hostage talks and ceasefire negotiations, any attempt to use coalition resources to strike Hamas in Gaza would promptly lead to friction. "The idea that the international community should form a coalition to fight Hamas is just about the worst possible idea on the table," said Charles Lister, a senior fellow and director of the Syria and Countering Terrorism and Extremism programmes at the Middle East Institute. "It would further exacerbate tensions, widen regional divisions and virtually guarantee the regional escalation that everyone wants to avoid." Karim Emile Bitar, associate research fellow at the Institute for International and Strategic Affairs in Paris, said any expansion of the anti-ISIS coalition was "very unlikely to happen". "What is absolutely needed, however, is an increasing multilateral co-operation and efforts on behalf of all regional and international powers to insist on the respect of humanitarian law and ideally call for an immediate ceasefire," he said.
The fact remains, ISIS are a terrorist organisation which plots their attacks through out the world but Hamas militants are limited to Gaza as it is a regional conflict issue. Adding the world into this would only multiply the intensity and prolong the peace treaty. Is Macron right about the coalition? or should the world take the passenger seat in this?