Payal Rohatgi Supports Sajid Khan Participating In Bigg Boss 16: TV actress Payal Rohatgi has also come out in support of MeToo accused film director and Bigg Boss 16 contestant Sajid Khan. Payal supported Sajid Khan's entry in Bigg Boss by writing a long post on social media. He supported the filmmaker by saying that 'he has the right to repent, earn money'. Along with this, Payal expressed displeasure against actress Mandana Karimi, who was her co-contestant of lock up. Mandana had recently announced to quit Bollywood after Sajid Khan left for Bigg Boss.
Those who protest don't leave Bollywood
In Bigg Boss 16, there has been a lot of ruckus when Sajid Khan comes as a contestant. Before Payal, actress Shahnaz Gill and Kashmira Shah have also supported Sajid. Now actress Payal Rohatgi has also joined this list. Supporting Sajid Khan, Payal wrote a long note, "Sajid Khan has done wrong to 6 women as he publicly told. He was reprimanded by all and publicly humiliated for his actions. Now 6 women can take him to court. But when even the killers have been given the right to reform according to the values ​​of Mahatma Gandhi, then Sajid Khan also has the right to live here. They have the right to earn money. They have the right to repent. Let them fight for their rights. They don't pretend to leave Bollywood if you oppose them."
Payal reprimands Mandana Karimi
Payal first answered Mandana's questions by writing a note. Mandana had said in her recent interview that 'Bollywood is not a place to work, there is no respect for women in it.' In response, Payal wrote, "You should not even live in Iran because women are not respected there too."
Payal also rejected Mandana's claim that she has not received her dues from the lock-up show. Payal revealed that being a part of the same show, she did not face any such problem. He wrote, "You left the show, so when a prisoner left the show, there should be a clause regarding payment. I had got my full payment after 10 days of the end of the show."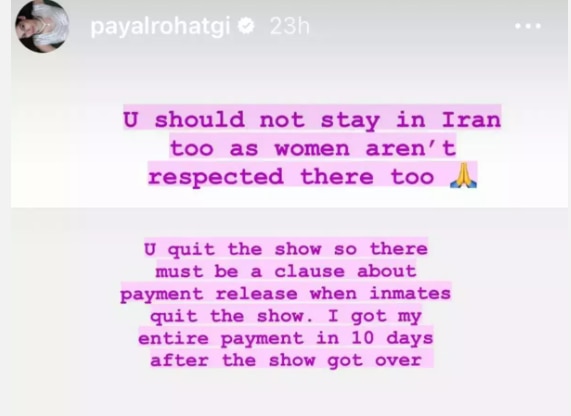 Payal had once demanded the arrest of Sajid
However, let us tell you that Payal Rohatgi has fiercely poisoned the director Sajid Khan in the year 2021. He had demanded the arrest of Sajid by sharing a video. Payal had said, Sajid Khan, I know you. I have worked with you in the film 'Hey Baby'. It is heard that three women have accused you of sexual abuse. What is the reaction of your family on this, I want to know because whole Bollywood is trending slogan of #Justiceforrrhea why no one speaks against you. I am not saying that you exploit many girls, but many girls have said, but in spite of this no one is raising their voice to get you arrested.
read this also-