Shraddha Arya Troll: Shraddha Arya, one of the most successful actresses of the small screen, has gained popularity as Preeta Arora in the TV show 'Kundali Bhagya'. Although there is no dearth of fans of Shraddha, but some do not hold back from trolling her. Recently, the actress has been trolled once again. She reached the 'Indian Television Academy Awards' (Indian Television Academy Awards 2022), where she was seen staggering.
Shraddha Arya was seen at the ITA award function with husband Rahul Nagal. During the award, the actress wore a heavy embroidered gown. Because of the gown, she was feeling uncomfortable in walking a bit. She wore high heels with the gown. She completed her look with green earrings and a messy hair bun. Although she was looking very beautiful, but people did not like her staggering.
Shraddha Arya stumbles in front of her husband
After the event, Shraddha Arya was seen going towards her car, during which she was behaving strangely. She was not even able to walk properly. Perhaps it could be because of her heavy gown or high heels. Her husband Rahul Nagal was supporting his ladylove and protecting her from the crowd. While on one hand people are calling Rahul a protective husband, on the other hand Shraddha Arya is being trolled badly.
News Reels


Shraddha Arya trolled
Seeing this video of Shraddha Arya, people are asking whether she has had a drink. One user said, "Puri talli hai." One user wrote, "Why did you drink so much when it is not going away." Apart from this, there are many people who are speculating about her pregnancy. Due to weight gain, people are speculating that maybe Shraddha is pregnant.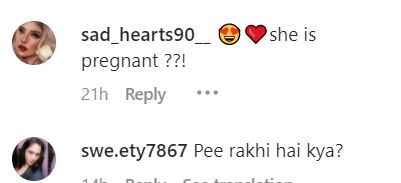 Let us tell you that in the past, Shraddha Arya was trolled for gaining weight after marriage. The actress responded to the trollers by making a spitting gesture.
Read this also- 'Taarak Mehta' fame Munmun Dutta got angry on paparazzi's ridiculous comments, did a good class