Rishi Sunak led UK government announced the money last month as part of plans to scrap part of the HS2 high-speed rail line and spend the amount saved on multiple other projects.
The saved amount is reportedly directed towards the council bodies of England's locality for road maintenance. Councils said the cost of repairing local roads was closer to £14bn.
The Local Government Association (LGA), which represents councils in England and Wales, said the money was "a significant boost" but it had consistently called for longer term funding to tackle the repair backlog.
Its spokesman, Darren Rodwell, said: "Longer-term, the government should award council highways departments with five yearly funding allocations to give more certainty, bringing councils on a par with National Highways so they can develop resurfacing programmes and other highways improvements, tackling the scourge of potholes."
In England, the North West, North East and Yorkshire and Humber will receive £3.3bn, with £2.2bn going to the West and East Midlands, and £2.8bn to the East, South East, South West and London.
Transport Secretary Mark Harper said it was up to local authorities how to spend their allocation, but part of the reason for the "significant increase" was so they could "improve the quality of road surfaces in the future" rather than just focusing on fixing existing potholes.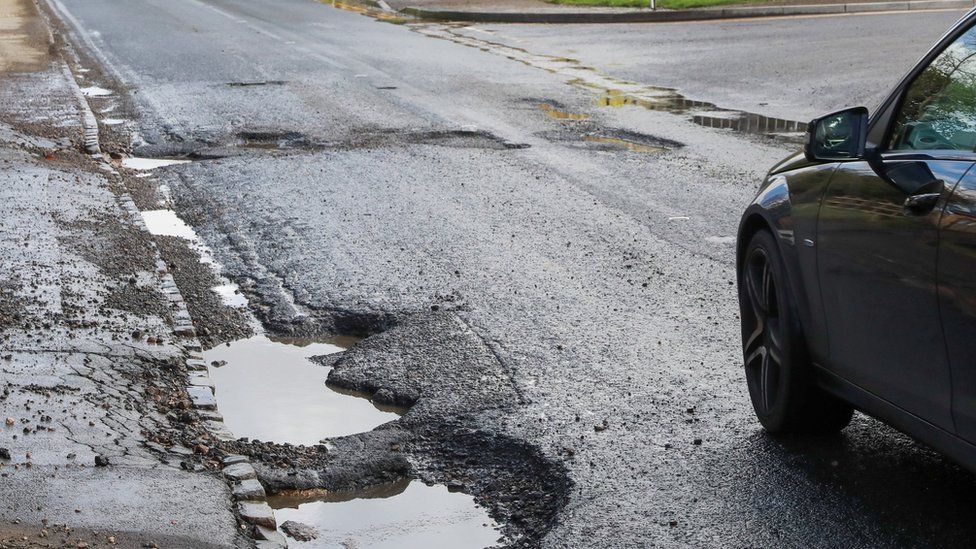 What was the Rishi Sunak-scrapped HS2 project?
HS2 is Great Britain's new high-speed railway. Once operational, HS2's British-built bullet trains will provide zero-carbon journeys between the UK's two largest cities, Birmingham and London, with services continuing on to Manchester, the North West and Scotland using the conventional railway network, cutting journey times. HS2 stands for High-Speed 2.
By better connecting Britain's biggest economic centres and catalysing plans for inner-city regeneration, HS2 will open up opportunities for the creation of thousands of new jobs and homes as well as driving transformative economic growth.
Twice the length of Crossrail, HS2 is the first new intercity railway to be built north of London in over a century. Construction of the line is well underway, with 30,000 jobs supported by the project and over 3,200 UK-based businesses helping to build it.
Comprising 140-miles of track, four new state-of-the art stations, two depots, 32 miles of tunnel, and 130 bridges, HS2 will leave a legacy of environmentally responsible travel, economic regeneration and technological innovation for generations to come.
The first HS2 services will run between Birmingham Curzon Street and Old Oak Common in London between 2029 and 2033.
Is Rishi Sunak's UK suffering from a severe 'pothole scourge'?
Car breakdowns due to potholes soared in July as repairs slowed during one of the wettest months on record, figures show.
The AA motoring organisation said call-outs for car damage from potholes rose by almost 20% compared with last July.
Wet weather meant drivers often could not see the potholes while repair efforts by councils were affected. The AA said common incidents included damaged shock absorbers and dented wheels.
In total, the group said it had received 50,079 call-outs in July to assist vehicles stranded from an encounter with a pothole – the highest number for that month since 2018.
The AA added that so far, 2023 was the third "worst year" for pothole breakdowns. It said it had attended 362,172 incidents by the end of last month.
The problem could add more financial woes to drivers who are already suffering from record high car costs, including insurance, which is 21% higher than last rainy season.
June Leatheam, 72, from Whitchurch in Hampshire, had to replace two of her tyres at a cost of £200 after driving into a pothole in July.
"When I drove along, knowing the holes are there, I was going quite tentatively. But the car just dipped and there was a bang," she said.
Last year, Essex County Council warned anyone attempting to fix a road could become liable for accidents, after singer Sir Rod Stewart took to repairing a pothole himself outside his home.
Sir Rod had said that despite the pothole causing damage to a passing ambulance, "no-one can be bothered to do" any repairs.
Apart from various issues conflicting Sunak's positive political era; pothole scourge has been his biggest problems to face.
India has had pothole problems itself; are there similar initiatives taken by the government?
The government is working on a policy to ensure that there are no potholes on national highways by year-end and construction of roads on Built-Operate-Transfer (BOT) mode is being preferred as such projects are maintained in a better manner, Union minister Nitin Gadkari said on Thursday.
With an aim to make the national highways free of potholes by the end of December this year, the Road Transport and Highways Ministry is firming up performance-based maintenance and short-term maintenance contracts.
Generally, road construction is done through three modes – BOT, Engineering, Procurement and Construction (EPC), and Hybrid Annuity Model (HAM).
"The roads which are constructed under the EPC mode require maintenance quite early whereas under the BOT mode, roads are better constructed as the contractor knows that he will have to bear the cost of maintenance for the next 15-20 years.
"That is why we have decided for construction of roads under the BOT mode in a big way," the Road Transport and Highways Minister said at a media briefing on various initiatives of his ministry.
Conclusion
It is safe to say India has a very systematic way of tackling such issues. Potholes in India have reduced drastically and so has the water clogging problem.
India has never used or scrapped any on-going projects for any on-going issue. Experts have predicted Rishi Sunak's time as the PM of United Kingdom could be limited to this tenure only.
Does Sunak get the majority or there is a new PM candidate hoping to secure their term as the elected head?