The Bharatiya Janata Party (BJP) released its manifesto titled 'Our Leading Rajasthan Manifesto 2023' for the upcoming Rajasthan Assembly elections on Thursday. The manifesto was unveiled by BJP President JP Nadda in Jaipur in the presence of senior party leaders including former Chief Minister Vasundhara Raje.
The manifesto outlines the BJP's vision and promises for Rajasthan across key areas like agriculture, infrastructure, health, education, women's empowerment and more. With the state elections scheduled for November 25 and results to be declared on December 3, the manifesto serves as the BJP's blueprint for Rajasthan's development if elected to power.
Key Highlights of BJP's Rajasthan Manifesto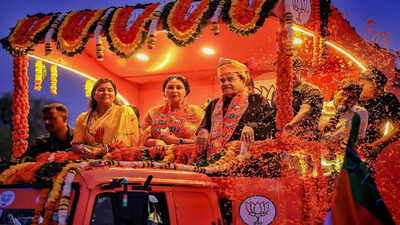 The 48-page manifesto focuses on 12 key areas— agriculture, health, education, employment, infrastructure, women and child empowerment, tourism, energy, urban development,skilled based training, inclusive development and leadership. Here are some major promises under each area:
Agriculture
Increasing PM-KISAN payments from Rs 6000 to Rs 12,000 annually
Compensation for farmers whose land was auctioned by Congress govt
100% subsidy on drip irrigation for 5 years
Procurement of oilseeds, pulses at MSP rates
Health
Rs 40,000 crore investment under 'Bhamashah Health Infrastructure Mission'
15,000 new MBBS seats in medical colleges
Free annual health checkups for citizens above 30 years
50 new veterinary hospitals across Rajasthan
Education
Free education for girls from weaker sections up to post-graduation
Rs 1200 assistance for school uniforms and books
5000 new teacher appointments
Self-defense training for girl students
Employment
2.5 lakh new government jobs in 5 years
Assistance and subsidies for new startups and enterprises
Skill development for 6 lakh rural women
50 lakh youth to be trained under Kaushal Vikas Yojana
Infrastructure
Making Jaipur, Jodhpur, Udaipur smart cities
4-lane highways connecting all tehsil headquarters
100 new sports stadiums and complexes
Time-bound completion of ERCP and highway projects
Women & Child Welfare
Rs 2 lakh savings bond for girl child under 'Ladli Laxmi Yojana'
Scooty and laptop for meritorious girls
33% reservation for women in government jobs
CM Sharnarthi Kalyan Yojana for displaced Hindu migrants
Energy
24×7 electricity supply to villages
Solar plants in Jaisalmer, Jodhpur and Bikaner
Promoting Rajasthan as hub for hydrogen energy
Subsidy for rainwater harvesting and drip irrigation
Governance
SIT to probe paper leaks and take action against culprits
Audit of Gehlot government's 5-year performance
Strict monitoring of CM and ministers' performance
Grievance redressal cells across state for time-bound action
Tourism
Developing luxury tourist circuits covering heritage sites
Promoting niche tourism like desert, wildlife and eco-tourism
Organizing international tourism festivals
Conservation of hill forts like Chittorgarh and Kumbhalgarh
Urban Development
Making all urban areas open defecation free
Building multi-level parking complexes
Promoting electric mobility with EV charging stations
Smart traffic management systems
BJP Committed to Fulfilling Poll Promises
Releasing the manifesto, JP Nadda asserted that for BJP, the manifesto is a roadmap for development unlike other parties that treat it as a formality. He stated that the party is fully committed to fulfilling every promise made in the 'Sankalp Patra'.
Nadda also heavily criticized the Congress government's performance over the past 5 years, citing issues like rising crimes against women, neglect of farmers, high electricity rates and frequent paper leaks.
The manifesto preparation involved seeking suggestions from people across Rajasthan's 200 constituencies. Over 1 crore suggestions were received from various sections of society to draft this comprehensive manifesto.
Rajasthan Assembly Elections 2022
The high-stakes Rajasthan Assembly elections will see a direct contest between the incumbent Congress government led by CM Ashok Gehlot and the opposition BJP.
In the previous 2018 elections, Congress had won 99 seats while BJP managed 73 seats in the 200-member House. Congress formed the government with the support of independents and BSP MLAs.
This time, both parties are pulling out all stops to win over Rajasthan's approximately 4.95 crore voters. From rallies to social media campaigns to manifesto promises, BJP and Congress are using all tools at their disposal to connect with citizens and highlight each other's failures.
While anti-incumbency could harm Congress' prospects, the recent success of the Bharat Jodo Yatra seems to have boosted enthusiasm among party workers. For BJP, internal conflicts and rebel candidates pose a challenge. The manifesto gives BJP an opportunity to present its vision and try to sway undecided voters.
Now all eyes are on November 25th when the first round of voting begins. The election results on December 3rd will reveal if the Congress manages to retain power or BJP makes a comeback under PM Modi's leadership.