Japan's economy slipped into a contraction in the third quarter, decreasing at an annual pace of 2.1% as consumption and investments shrank, the government reported Wednesday. The world thought Japan could have the might to cross-counter such economical fiascos.
Real gross domestic product, which measures the total value of a nation's products and services, fell 0.5% in the July-September period for the world's third largest economy, the Cabinet Office said. That would produce a 2.1% drop if the quarter's performance continued for a full 12 months.
The third quarter's performance was far worse than what had been expected, according to the financial services company ING, which had forecast an annual contraction of 0.5%.
"Most of the miss in the consensus forecast came from weaker-than-expected domestic demand items, such as consumer spending, business investment and inventory accumulation," Robert Carnell, ING's head of research for the Asia-Pacific area, said in a report.
Private consumption shrank an annualised 0.2% during the quarter, while corporate investment decreased 2.5%. Given the numbers, Japan's central bank isn't likely to consider any move toward higher interest rates.
The Bank of Japan has taken a super-easy monetary policy for years, with zero or below-zero interest rates aimed at energising an economy long beset by deflation, which reflects the stagnation that has plagued Japan with its aging and shrinking population.
What is contraction in a country's economy?
An economic contraction happens when domestic output, such as GDP decreases. It leads to a decrease in other areas, such as individual income, production, and sales. Unemployment rates may increase. One recent example of a major economic contraction was the one caused by the COVID-19 pandemic.
An economic contraction is caused by a loss in confidence that slows demand. An event, like a stock market correction or crash, triggers it. But the true cause precedes the well-publicized event. For example, it may be precipitated by an increase in interest rates that decreases capital spending.
Investors sell stocks, sending prices downward and reducing financing for large corporations. Businesses cut spending, then lay off workers. That dries up consumer spending, which creates further business losses and layoffs. To understand this economic downturn, one has to be aware of the causes of the business cycle, especially the causes the recession.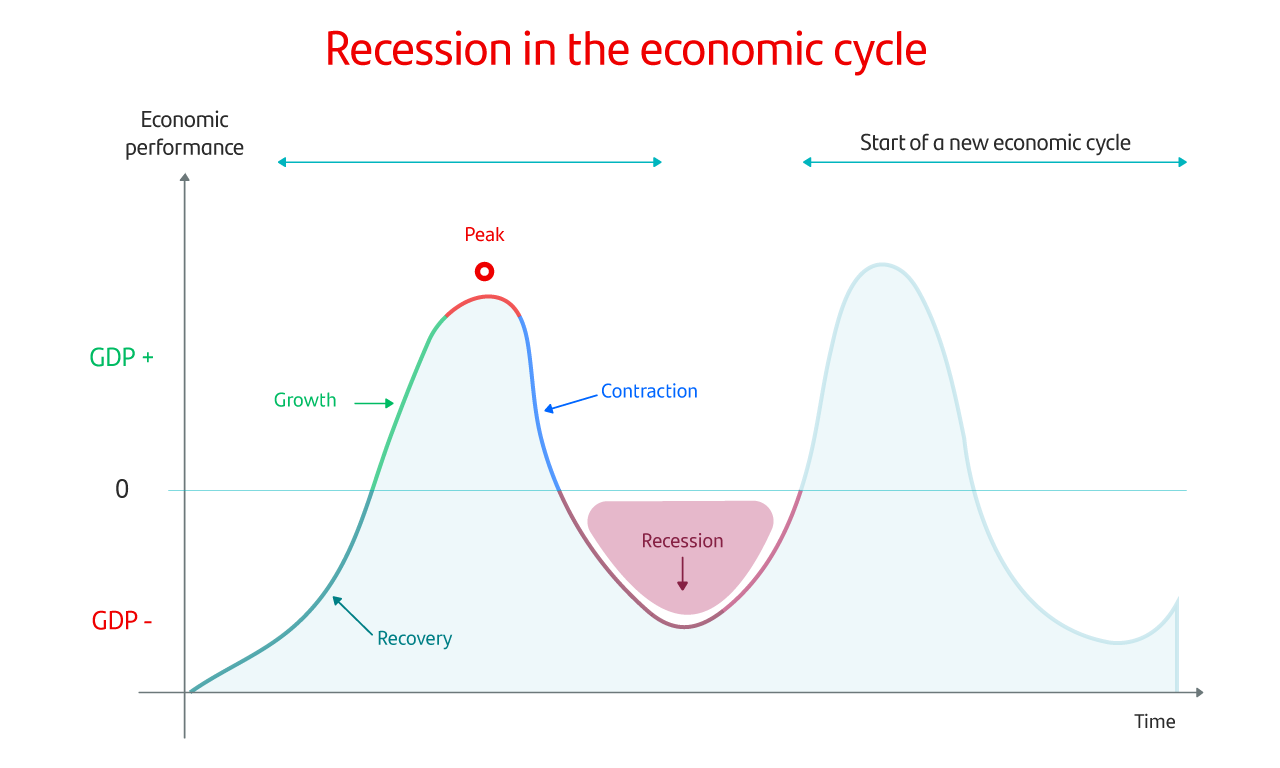 A contraction ends when prices fall enough to attract renewed demand. Central bank monetary policy and government fiscal can end a contraction more quickly. They will lower interest rates and taxes and increase the money supply and spending. These policies are integral to a nation's strategies for supplying the best unemployment solutions.
Why is Japan's economy facing contraction?
The data suggests stubbornly high inflation is taking a toll on household spending, and adding to the pain for manufacturers from slowing global demand including in China.
"Given the absence of a growth engine, it wouldn't surprise me if the Japanese economy contracted again in the current quarter. The risk of Japan falling into recession cannot be ruled out," said Takeshi Minami, chief economist at Norinchukin Research Institute.
"The weak growth and the spectre of slowing inflation could delay the BOJ's exit from negative interest rates," he said.
Consumption was flat in July-September after sliding 0.9% in the previous quarter, falling short of economists' median estimate for 0.2% growth.
Capital expenditure fell 0.6% in the third quarter after declining 1.0% in April-June, confounding market forecasts for a 0.3% gain and casting doubt on the BOJ's view that robust corporate investment will underpin growth.
External demand shaved 0.1 of a percentage point off GDP in July-September, in line with expectations, as an increase in service imports offset rises in auto exports.
"The disappointing third-quarter reading serves as a sobering reminder that the country is not yet out of the woods," said Stefan Angrick, senior economist at Moody's Analytics.
He said better net exports, underpinned by car shipments and tourism, helped lift growth in the second quarter, belying the weakness in domestic demand. "Now that the export recovery has run its course, that weakness is coming back to the fore," Angrick said.
Prime Minister Fumio Kishida has stepped up calls for firms to hike pay and announced a package of measures to cushion the economic blow from rising living costs, though analysts doubt the measures will have much effect in stimulating the economy.