PM Modi will launch a ₹ 24,000 crore scheme aimed at holistic development of Particularly Vulnerable Tribal Groups (PVTG) on the occasion of 'Janjatiya Gaurav Divas' on November 15 in Jharkhand, official sources said on Monday.
In 2021, the Modi government announced that the birth anniversary of revered tribal warrior Birsa Munda, who was born in Jharkhand, will be commemorated as the Janjatiya Gaurav Divas.
The scheme, PVTG Development Mission; will be a huge step towards the empowerment of tribals, they said, adding that this will be a first-of-its-kind initiative.
In the 2023-24 budget, the scheme was announced for improving socio-economic conditions of the PVTG.
According to officials, there are 75 PVTG in 18 states and Union territories living in 22,544 villages spread across 220 districts having a population of around 28 lakhs.
The mission will be implemented through the convergence of 11 interventions of nine ministries under a host of existing welfare programmes covering rural roads, rural housing and drinking. Some scheme norms will be relaxed to cover these remote habitations, the officials said.
More about PM Modi's PVTG Development Scheme
There are tribal communities who have declining or stagnant population, low level of
literacy, pre-agricultural level of technology and are economically backward. 75 such groups
of tribals in 18 States and 1 Union Territory have been identified and categorised as Particularly Vulnerable Tribal Groups (PVTGs).
State/UT-wise list of PVTGs is at Annex. Most of these groups have not attained significant level of educational, economic progress and are having low health indices.
Hence, priority is accorded for their protection and improvement in terms of the social indicators like livelihood, health, nutrition and education so as to decrease their vulnerability.
PVTGs constitute the most vulnerable section among tribals and inhabit isolated,
remote and difficult areas in small and scattered hamlets/ habitats.
The scheme aims at planning their socio-economic development in a comprehensive manner while retaining the culture and heritage of the community by adopting habitat development approach and intervening in all spheres of their social and economic life, so that a visible impact is made in improvement of the quality of life of PVTGs.
The scheme will cover only the 75 identified PVTGs. The scheme is flexible because
it enables each State to focus on areas that they consider relevant to their PVTGs and their
socio-cultural environment. Certain set of activities will be included under the mission such as; Livelihood, Employment opportunities and economic development of PVTGs through
Agriculture, Horticulture, Animal Husbandry, Dairy, and Skilling/ Vocational
Training, Education, (Literacy, Drop-out, Residential schools in addition to SSA/RMSA).
 Health, (Gap filling for effective health service delivery beyond NHM etc).
Provision of safe drinking water (gap filling where line Ministries do not provide complete/universal coverage), Land distribution, land development, Social security, Housing and Habitat, Connectivity (Road and Telecommunication), Supply of Electricity (gap filling where line Ministries do not provide complete/universal coverage), Solar power, with provision of maintenance, Irrigation (gap filling where line Ministries do not provide complete/universal
coverage), Urban Development, Culture, Sports including traditional and tribal games and sports, Any other innovative activity for the comprehensive socio-economic
development of PVTGs.
All the 18 State Governments and the Union Territory of A&N Island shall prepare a
long term "Conservation-cum-Development (CCD) Plan" for each PVTG of their State on the
basis of requirement assessed through Baseline and other specific surveys conducted by
them.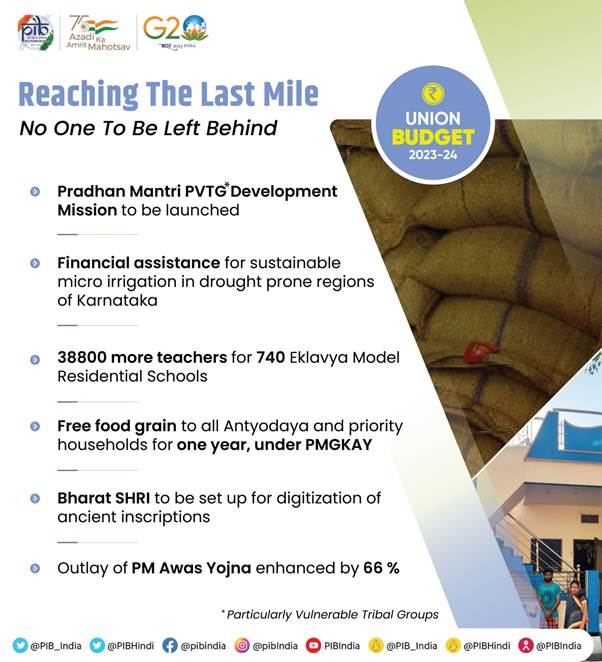 For implementation of the scheme, 'Micro Project' located in or near the habitation shall be created if not already existing in or near the habitation of the PVTGs.
Are there any prior missions launched by PM Modi for the tribal welfare?
National Scheduled Tribes Finance and Development Corporation (NSTFDC), an apex Organisation under the Ministry of Tribal Affairs in 2001 was brought into existence with the sole aim of economic upliftment of the Scheduled Tribes in the country by way of extending concessional financial assistance to the target group under its various schemes.
The prominent schemes of NSTFDC are Term Loan, Adivasi Mahila Sashaktikaran Yojana – an exclusive scheme for Scheduled Tribe women, Adivasi Shiksha Rinn Yojana – Education Loan scheme, Micro Credit Scheme for Self Help Groups (SHGs) – comprising Scheduled Tribes as its members, Tribal Forest Dwellers Empowerment Scheme and Teak Growers Scheme.
There are still over two crore families of Scheduled Tribes to be covered. NSTFDC aims to put in more concerted effort to enhance its coverage as well as improved delivery system.The awareness among the target group of Scheduled Tribes about the various schemes of the Corporation can be enhanced with the wide usage of state of art technology.
The entire team of NSTFDC will work hard with full commitment and dedication to ensure maximum beneficiary satisfaction in terms of value of service rendered.
PM Modi's narrative towards the tribal community of the country
PM Modi leaves no stone unturned when it comes to provide equality among the communities in the country.
From crores of rupees invested in the schemes to betting a tribal candidate for the Presidency of the biggest democracy of the country; The PM has a very unique and different way of approaching such sensitive issues.
The PM has been increasingly involved in tribal events and raises a strong voice in their support. Inaugurating the Aadi Mahotsav, the national tribal festival which has emerged as an important platform to showcase and celebrate arts and crafts of the tribes, the PM said the tribals, with their rich and diverse traditions make a major contribution to the country's cultural richness.
PM Modi said the country is working for the tribal population with a sense of pride that has not been seen earlier.
The PM has been to several other such events ever since the elections campaigns have kicked off in several parts of the country.