Sir Bobby Charlton, often regarded as the "Best Player in England" passed away due to illness yesterday. Greatness was an understatement for Sir Bobby. He was born a normal person but he left the world as a true legend of the game who inspired once in a generation talents to grace the sport.
Charlton won 106 caps for England and scored 49 international goals – records for his country at the time. During a 17-year first-team career with United he won three league titles, a European Cup and an FA Cup. Charlton's family said he "passed peacefully in the early hours of Saturday morning". He was hailed as "England's greatest player" and "an undisputed legend" as tributes flowed. In November 2020, it was announced Charlton had been diagnosed with dementia. He died surrounded by his family, who said in a statement they wished to "pass on their thanks to everyone who has contributed to his care and for the many people who have loved and supported him". "We would request that the family's privacy be respected at this time," the statement added, as the family said his loss was felt "with great sadness".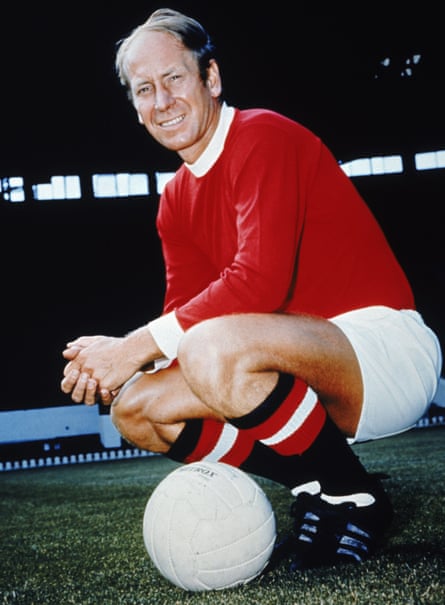 PA Images
Manchester United said Charlton ranked as "one of the greatest and most beloved players in the history of our club". "Sir Bobby was a hero to millions, not just in Manchester, or the United Kingdom, but wherever football is played around the world," the club said. "He was admired as much for his sportsmanship and integrity as he was for his outstanding qualities as a footballer; Sir Bobby will always be remembered as a giant of the game. "His unparalleled record of achievement, character and service will be forever etched in the history of Manchester United and English football and his legacy will live on through the life-changing work of the Sir Bobby Charlton Foundation. "The club's heartfelt sympathies are with his wife Lady Norma, his daughters and grandchildren, and all who loved him."
An Old Trafford legend
Born in Ashington, Northumberland on 11 October, 1937, Charlton joined Manchester United as a schoolboy in 1953, turning professional the next year and making his first-team debut against Charlton Athletic in October 1956, aged 18. In February 1958, he was a survivor of the Munich air crash in which 23 people died, including eight of his United team-mates. The accident had a profound impact on the rest of Charlton's life.
"There isn't a day that goes by I don't remember what happened and the people who are gone," he said on a visit to Munich many years later. "Manchester United at that time were going to be one of the greatest teams in Europe. The accident changed everything. The fact that the players are not here and are never going to be judged is sad. They'll never grow old." He became a focal point of manager Sir Matt Busby's rebuilding effort. Joined by Denis Law and George Best, Charlton inspired United to a first European Cup win in 1968, scoring twice in the final against Benfica. He was often termed as the most important "Busby's Babe". 
He had been awarded the Ballon d'Or in 1966 after playing every minute of England's World Cup victory. Charlton went on to break United's scoring and appearance records – netting 249 goals in 758 games to cement his status as one of British football's all-time greats – before leaving the club in May 1973. Those long-standing records were eventually broken, with Ryan Giggs finishing on 963 games and Wayne Rooney scoring 253 goals. After leaving Old Trafford, Charlton spent two years as manager and player-manager at Preston North End before resigning in August 1975. In the following year, he played briefly in the Republic of Ireland before moving into the boardroom at Wigan Athletic, where he also had a spell as caretaker manager. In June 1984, he became a director at United and 10 years later he was knighted, having previously been awarded an OBE and CBE. Charlton came second in the BBC Sports Personality of the Year Award in 1958 and 1959. In 2008, he received the Lifetime Achievement award.
United renamed Old Trafford's South Stand in his honour in 2016 as it became the Sir Bobby Charlton Stand. A wreath has been laid at the United Trinity statue at Old Trafford on behalf of the club, with a book of condolence to be open to fans and the public from Sunday.
The bronze Trinity statue immortalises Charlton, Best and Law. United players paid their tribute to the legend before starting last night's game against Sheffield United at the Bramall Lane. Players dedicated their collective win towards Sir Bobby and his loved ones. Talks continue about how best to commemorate Charlton's life ahead of Tuesday's Champions League game against Copenhagen in Manchester. 
Tributes to 'England's greatest player'
News of Charlton's death was met with sorrow across the football world. "It is with a heavy heart that we have learned of the passing of Sir Bobby Charlton," said the Football Association through England's X account. "An integral part of our 1966 FIFA World Cup winning campaign, Sir Bobby won 106 caps and scored 49 times for the Three Lions. "A true legend of our game. We will never forget you, Sir Bobby."
England manager Gareth Southgate added: "One of our most iconic players, Sir Bobby Charlton's impact on our only World Cup triumph is there for all to see. "The privilege of meeting him on several occasions allowed me to understand his personal pride and emotion in having represented England and simply confirmed in my mind his standing as one of the gentlemen of the game. "The world of football will unite in its sadness at losing an undisputed legend."
Former England captain and Manchester United star David Beckham was given the middle name Robert as his father so admired Charlton. Beckham said: "Today isn't just a sad day for Manchester United and England, it's a sad day for football and everything that Sir Bobby represented. Today our hearts are heavy." European football's governing body UEFA added: "On behalf of the entire European football community, we are deeply saddened to hear of the passing of Sir Bobby Charlton, one of the game's true greats. Rest in peace, Sir Bobby."