The extravagant event of international cricket, the Cricket World Cup started on 5th October 2023. No event is complete without a musical anthem. The theme song of Cricket World Cup 2023 is "Dil Jashn Bole". But there are mixed reactions to the musical anthem making it a new hot topic to be discussed about the Cricket World Cup 2023 theme song.
The theme song of Cricket World Cup 2023
The theme song is an artistic collaboration between Bollywood superstar Ranveer Singh and renowned Bollywood musical composer Pritam. The song depicts a strong blend of traditional classical Indian instruments with an international flavor. The musical tune aims to gather the happiness of cricket fans across the globe. The greater will behind creating such musical videos is uniting both national and international cricket communities across every culture and boundary.
The theme song "Dil Jashn Bole" has been released on different platforms like Spotify, Apple Music, Gaana, Hungama, Resso, Wynk, Amazon Facebook, Instagram, and YouTube. The song is 3 minutes and 22 seconds long.
The lyrics of the anthem have been written by Shloke Lal and Saaveri Verma, while vocals have been provided by musical fraternity like Pritam, Nakash Aziz, Sreerama Chandra, Amit Mishra, Jonita Gandhi, AKASA, and Charan. The song also includes a rap written and performed by rapper Charan.
People's Reaction to the theme song
This melodious effort was not liked by many cricket fans. The theme song did not receive a good response on social media platforms. ICC was highly criticized for not being able to gather the audience and vibe of the World Cup like that of 2011 and 2015.
Many said that despite bringing different social media influencers and celebrities in the video, but failed to bring in past World Cup moments or cricket to feature in the musical theme. On the other hand, few appreciate the energetic presence of Ranveer Singh in the theme.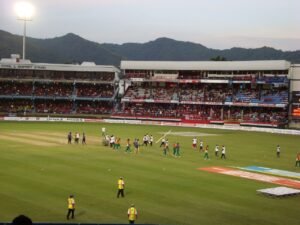 Conclusion
Every work has mixed emotions from the people. Cricket is an emotion for the people. The actor Ranveer Singh who has done the movie 83 in the year 2021, expressed his love and proud movement for being cast in the Cricket World Cup 2023 theme song.
The Cricket World Cup of 2023 has brought the 10 best cricket teams to play together in India. There is huge love and excitement for the ongoing World Cup across the globe. The theme song of Cricket World Cup 2023 "Dil Jashn Bole" has gained global attention even though there has been mixed response to it.