Reports from Washington claim that the USA have accused China of orchestrating dangerous manoeuvres against the USA Airforce. A warning has been spent to Beijing stating it could start a conflict between them.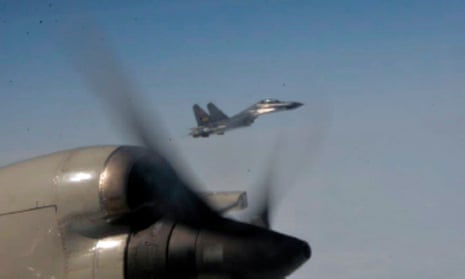 (Image from video provided by the US department of defence, shows an intercept of a US warplane by Chinese aircraft. The Pentagon has released footage of intercepts of US warplanes by Chinese aircraft.

Photograph: AP)
The Pentagon said aggressive tactics by Chinese aircraft had threatened US planes flying over the East and South China Sea regions, tallying more than 180 such incidents since autumn 2021. "That's nearly 200 cases where (Chinese) operators have … discharged chaff or shot off flares or approached too rapidly or close to US aircraft," said Ely Ratner, assistant secretary of defence for Indo-Pacific security affairs. "More in the past two years than in the decade before that," he added. "This type of operational behaviour can cause accidents, and dangerous accidents can lead to inadvertent conflict," Ratner said, adding that the incident count, tallied since the autumn of 2021, increases to nearly 300 when US allies are included. Ratner alleged there was an intentional campaign by Beijing "to perform these risky behaviours in order to coerce a change in lawful US  operational activity". In one instance, Ratner said, a Chinese fighter plane "approached our asset at a speed of hundreds of miles per hour, clearly armed and closing to just 30 feet away", and stayed there for more than 15 minutes.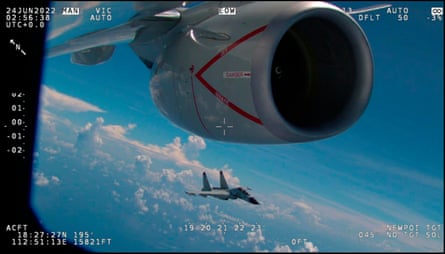 Both the super-powers have reached a new low in their relationship because of various issues ranging from South China Sea, Taiwan, Human Rights, Economic ties and Bilateral ties. Tuesday's news conference came after previous warnings from the White House over the summer that Chinese military aggressiveness at sea and in the air was leading to near collisions, and could soon lead to casualties. "It won't be long before somebody gets hurt," national security council spokesperson John Kirby told reporters in June.
(This image from video provided by the US defence department, shows an intercept of a US warplane by Chinese aircraft.

Photograph: AP) 
Turns out, it's not only the USA upset with China but Canada also has expressed her concerns over the Chinese airspace manoeuvrings. Canada separately accused Beijing's fighter jets of a "reckless" intercept of a Canadian maritime patrol aircraft. Chinese planes shadowed the Aurora aircraft – on a mission to enforce UN sanctions against North Korea – over several hours according to a Canadian television crew on the flight. One came within five metres of the Canadian plane, in a move Canada's defence minister Bill Blair called "unprofessional". On Tuesday Beijing hit back, accusing the plane of having "illegally intruded into the airspace" of Chiwei island, which lies in the Japan-administered Senkakus claimed by China. "The Canadian military aircraft travelled thousands of miles to make trouble and provocation at China's doorstep," foreign ministry spokesperson Mao Ning said. "The Chinese side dealt with it according to law and regulations. Relations between Canada and China hit new lows this year following accusations of Chinese meddling in Canadian elections and the attempted intimidation of MPs, leading to the expulsion of a Chinese diplomat in May of this year.