The abortion law has made Democrats win the battle in Virginia election. This is a good news for Democrats as the parties plot their strategies ahead of the 2024 Elections.
Vice-President, Kamala Harris too congratulate her party after the results by posting her video of expressing gratitude and emphasising on abortion laws, on her social media handle of instragram.
For all the sound about the 7 November elections, there was one clear signal: Abortion rights are politically popular, no matter where or when they are on the ballot. The Virginia election results have brought happiness for Democrats and their supporters.
Governor Glenn Youngkin, the Virginia Republican believed he could crack one of the most intractable issues in American politics with the promise of "reasonable" abortion restrictions but lost the battle in Virginia election. This put an end to both his plan for a 15-week abortion ban and rumors about his candidacy for a 2024 presidential election.
What are Abortion Rights that made the Democrats victory in Virginia election?
People's access to abortion and other forms of reproductive health care made the latest victory for abortion rights supporters since the U.S. Supreme Court overturned Roe v. Wade in 2022.
The Supreme Court in 2022 stripped away women's basic constitutional protections for abortion, a fundamental and deeply personal change for Americans' lives after nearly a half-century under Roe v. Wade. The court's overturning of the landmark court ruling is likely to lead to abortion bans in roughly half the states of America.
The ruling, unthinkable, was the after-effects of decades of efforts by abortion opponents, made possible by an emboldened right side of the court fortified by three appointees of former President Donald Trump.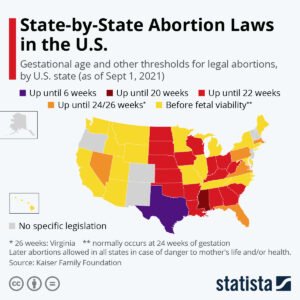 During the statistics, pregnant women who were going for abortions already had been dealing with a near-complete ban in Oklahoma and a prohibition after roughly six weeks in Texas. Hospitals in at least eight other states — Alabama, Arizona, Arkansas, Kentucky, Missouri, South Dakota, Wisconsin, and West Virginia — stopped performing abortions after the Supreme Court's verdict. It hampers the basic reproductive choices of women in these states.
It also puts the court in a negative spot with a majority of Americans favored preserving Roe. Surveys conducted by a reputed organization like – The Associated Press-NORC Center for Public Affairs Research have shown a majority in favor of abortion being legal in all or most circumstances.
The ruling came more than a month after the stunning leak of a draft opinion by Justice Samuel Alito, indicating the court was prepared to take this momentous step.
"We therefore hold that the Constitution does not confer a right to abortion. Roe and Casey must be overruled, and the authority to regulate abortion must be returned, to the people and their elected representatives," Alito wrote, in an opinion that was very similar to the leaked draft.
This verdict led to large outbursts of young women, college students, and human rights activists in the streets of America.
Major Highlights of Victory in Virginia Election
Democrats' strong support for abortion rights further solidified their place as a driving force in the 2024 elections when voters in states like Ohio, Virginia, etc. Americans voted for their basic reproductive and abortion rights.
History was made in Rhode Island and Philadelphia. To start, Democrat Gabe Amo is the projected winner of Rhode Island's special congressional election. He will be the first Black person to represent the state in Congress. This is truly inspiring for the Blacks in America.
In Philadelphia, former city council member Cherelle Parker will become the first woman to lead the City of Brotherly Love. This is a way to showcase the lady power in the states. She will be the fourth Black Mayor.
Kamala Harris gave a powerful speech post democrats victory in Virginia election.
Conclusion
Elections of 7 November brought a victories wave for Democratic candidates and Democratic issues winning big-ticket votes.
Despite Biden's degrading graph in his popularity among Americans, Democrats have made it into the heart of people. Trump, Florida Gov. Ron DeSantis, and former South Carolina Gov. Nikki Haley all came in ahead, if narrowly, in hypothetical matchups against the president.
Victory in Virginia election proves if parties or leaders stand for civilian rights, people make them winners.