Asian Development Bank (ADB) has approved a $400 million loan to support the Indian government's urban reform agenda for creating high-quality urban infrastructure and efficient governance systems.
"The programme also envisages integrated urban planning reforms to control urban sprawls and foster systemic and planned urbanisation through enhancing the entire ecosystem of legal, regulatory, and institutional reforms along with capacity building of ULBs and community awareness. The programme aims to support the government's urban reform agenda for improving the quality of urban life through the creation of high-quality urban infrastructure, assured public services, and efficient governance systems," ADB said.
While Subprogram 1, approved in 2021, established national-level policies and guidelines to improve urban services, Subprogram 2 is supporting investment planning and reform actions at the state and Urban Local Body (ULB) levels.
About Asian Development Bank
Established in 1966 and owned by 68 members, including 49 from the Asia-Pacific region, the Asian Development Bank remains steadfast in its commitment to promoting prosperity, inclusivity, resilience, and sustainability throughout Asia and the Pacific while continuing its mission to eradicate extreme poverty.
PTI
"India has recognised the potential for cities to be centres of economic growth and has emphasised the need to make cities liveable through inclusive, resilient, and sustainable infrastructure, which is also in line with ADB Strategy 2030. The national flagship program of Atal Mission for Rejuvenation and Urban Transformation (AMRUT) 2.0 is targeted for universal access of water supply and sanitation and to ensure urban water security through reducing water losses, recycling treated sewage for non-domestic use, rejuvenation of water bodies, and maintaining sustainable groundwater levels," said Sanjay Joshi, ADB's principal urban development specialist.
In October last year, Prime Minister Narendra Modi-led Central Government green-lit the AMRUT 2.0, allocating an indicative ₹2.77 trillion, with the central government's share being ₹76,760 crore for five years till FY26. The mission is aimed at making Indian cities 'water secure'. The scheme entails offering affordable water and sanitation services, advancing functional tap connections across households, and emphasising water conservation, among other things.
ADB expects cities to become credit-worthy through various revenue-enhancing reforms, such as property taxes and user charges, which will improve efficiencies and rationalise expenditures. These measures will substantially help cities mobilise innovative financings such as commercial borrowings, issuance of municipal bonds, sub-sovereign debts, and public–private partnerships to bridge the significant deficit in urban infrastructure investments.
Throughout the program's implementation, ADB will provide knowledge and advisory support to India's Ministry of Housing and Urban Affairs, overseeing the process and conducting monitoring and evaluation. The focus of ADB's efforts will be on lower-income states that require additional assistance in terms of capacity building, institutional strengthening, and policy reforms.
Source: IANS
What is Atal Mission for Rejuvenation and Urban Transformation (AMRUT) 2.0 ?
The Atal Mission for Rejuvenation and Urban Transformation 2.0 (AMRUT 2.0) upto 2025-26 was approved by the Cabinet during October 2021 as a step towards Aatma-Nirbhar Bharat and with aim of making the cities 'water secure' and 'self-sustainable' through circular economy of water.
Taking forward the remarkable strides made under AMRUT, AMRUT 2.0, targets universal coverage of water supply by providing household tap connections in all 4,378 statutory towns. 100% coverage of household sewerage/ septage management in 500 AMRUT cities is other objective. Mission targets to provide 2.68 crore tap connections and 2.64 crore sewer/ seepage connections to achieve the intended outcomes. Total indicative outlay for AMRUT 2.0 is Rs 2,77,000 crore including central share of Rs 76,760 crore for five years from FY 2021-22 to FY 2025-26.
Mission will be monitored on a robust technology based portal. The projects will be geo-tagged. There will be an endeavor to make it a paper-less Mission. Cities will assess their water sources, consumption, future requirement and water losses through a city water balance plan. Based on this, city water action plans will be prepared which will be summed up as State Water Action Plan and will be approved by the Ministry of Housing and Urban affairs. The funds for the projects will be shared by Centre, State and ULBs. Central funds will be released to the States in three tranches based on allocation to the State as per State Water Action Plan.
Mission will also encourage mobilisation of market finance by mandating implementation of 10% of worth of projects in cities with population above ten lakh through Public Private Participation. Mission will also bring in the leading technologies in water sector in world through technology sub-Mission. Entrepreneurs/ start-ups will be encouraged in water eco-system. Information Education and Communication (IEC) campaign will be undertaken to spread awareness among masses about water conservation.
Mission has a reform agenda focussed towards financial health and water security of ULBs. Meeting 20% of water demand through recycled water, reducing non-revenue water to less than 20% and rejuvenation of water bodies are major water related reforms. Reforms on property tax, user charges and enhancing credit worthiness of ULBs are other important reforms. ULBs will be rewarded with incentive on accomplishing the reforms.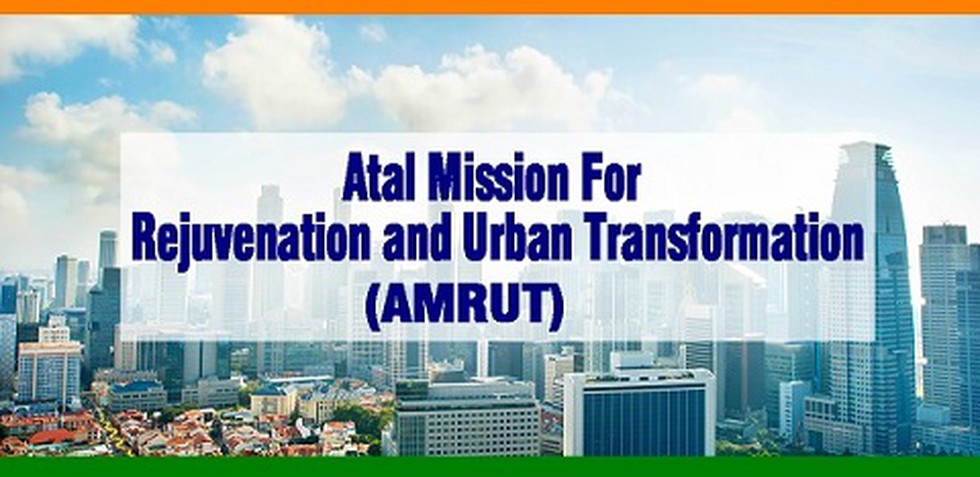 Why does India need a loan for AMRUT 2.0?
Prime Minister Narendra Modi, chair-person behind this mastermind infrastructural plan has always wanted to have world-class infrastructure in India. In fact, improvement in the infrastructure was of the points in their 2014 and 2019 election manifestoes. Past few years have been humongous for Indian Infrastructure in terms of road transport, rail transport and all means of communication.
Union cabinet minister Nitin Gadkari has asked officials of the Ministry of Road Transport and Highways to ramp up the pace of construction to around 40 km a day from the present 34 km per day target. The centre plans to build 12,500 km of roads in the current fiscal year ending March 31, 2024.
Prime Minister Narendra Modi with Union Minister for Road Transport & Highways Nitin Gadkari. TELEGRAPH
Indian Railways almost builds around 10 km worth of rail line a day. The Railway ministry spearheaded by Ashwini Vaishnaw has set aside a fund worth 35000 crores to complete rail related work such as construction of new lines, gauge conversion and doubling the capacity.
 Ashwini Vaishnaw with Prime Minister Narendra Modi.
The cost of rigorous development coming directly from State treasury has to have had an impact on the spending. There are certain projects which are yet to begin, which are half-way through and which are 100% ready. The common point between all of them is the fund allocated for the commencement of these projects are paid by government. Presumably, that is the only reason why India opted for funds outside of her vicinity. ADB has always been a reliable source and true friend for India during tough times. To avoid continuous flow of expense; India chose to take out a loan, complete the projects and repay the loan. This has been the similar way done with Subprogram 1 which was achieved in 2021.