Motorola, the renowned mobile manufacturing company showcased something very unusual yet futuristic. A concept design of their bendable mobile phones which can be worn as a watch on wrists has taken the internet by a storm.
The Lenovo subsidiary showcased its flexible pOLED display concept phone at the annual Lenovo Tech World 2023 on Tuesday (October 24). The new smartphone form factor has a full-HD+ pOLED screen.
Photo Credit: Motorola
What is this exquisite concept of bendable 'wrist phones'?
The adaptive display concept can be positioned in several stand modes. Motorola has unveiled its new adaptive display concept at Lenovo Tech World 2023. As mentioned, this new conceptual device has a full-HD+ pOLED display that can be bent and shaped into different forms depending on users' needs. This adaptive display concept can be adjusted from a standard Android phone experience in a flat position to being wrapped for a wrist-worn experience or positioned in several stand modes. The device can stand on its own as a bipod, offering a hands-free experience for the user.
When laid flat, its 6.9-inch screen can be used like a standard smartphone with a full Android experience. It can also be adjusted to a self-standing position with a 4.6-inch display.
Features of the device
Additionally, Motorola notes that users can wrap the device around their wrist like a smart band or smartwatch to get a similar experience to the external display on the Motorola Razr Plus's cover screen. What sets it apart is its adaptive user interface, which adjusts itself based on the screen's alignment. For instance, when you keep the phone on a table in a stand mode with the unit's bottom part bent, the apps displayed on the lower part will automatically shift to the upper portion of the screen. The navigational gesture options will also move up.
The prototype of this flexible device also showed generative AI features optimized for the flexible form factor. A built-in feature, MotoAI, empowers users to personalize their phone's wallpaper and theme simply by capturing an image of their outfit. In return, they receive AI-generated images ready to match their screen as wallpaper. As of now, there is no information on how Motorola will incorporate a battery in this flexible phone. In a nutshell, the new 'Moto' phone is one for the tech-geeks as well as for the ones who love unique designs.
MOTOROLA RIZR
More About Motorola
Motorola was an American telecommunications company founded in 1928 by Paul and Joseph Galvin as Galvin Manufacturing Corporation. The company's first product was a battery eliminator, a device that converted direct current to alternating current, allowing battery-powered radios to function through household electricity. Since early years, the company worked on radio communication devices. In 1940, it introduced a pair of two-way radio communication products for the US police and military personnel.

Motorola founders Paul Galvin and Joseph Galvin
In 1962, Motorola also started supplying radio communications gear for the unmanned Mariner and manned Gemini space programmes. The company's transponder was in 1969 used in America's first Moon exploration mission, Apollo, where astronaut Neil Armstrong's message from the moon was carried over a Motorola-designed device.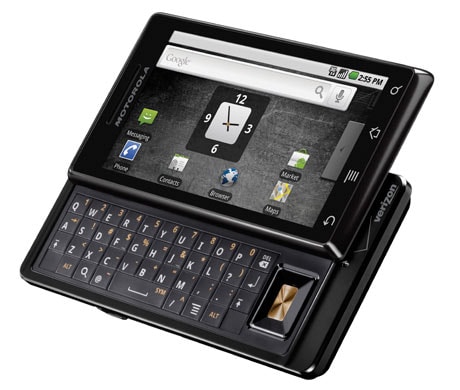 MOTOROLA DROID, 2009.
Now, with innovative concepts, can Motorola turn the force with them with their new products, especially with this bendable smartphone? It is yet to be seen.