For the first time, Bru refugees will not cast their votes in elections in Mizoram. The Assembly election in Mizoram is on November 7, the first in the poll schedules for five election bound states.
Bru community was given permanent settlement in Tripura under a Central government sponsored rehabilitation arrangement that came into effect in January 2020.
It is happening for the first time as before this, the Election Commission of India had to set up polling stations on the Tripura-Mizoram boundary to facilitate voting of the eligible displaced voters so that they can vote.
Looking at this scenario, the office of Chief Election Officer Mizoram deleted about 14,000 Bru voters from the electoral rolls after they became permanent residents of Tripura. It signifies the complete exclusion of Bru from the electoral process in Mizoram.
Some Bru people still live in Mizoram, especially in the Mamit district. Why are they excluded from the voters list in Mizoram?
The displaced Bru community is from the approximately 6,959 families identified for permanent rehabilitation in Tripura under a financial package of ₹661 crore.
Who are Bru Refugees?
The Bru community, also, known as Reang, is an ethnic group living for centuries in the northeastern states of India, mainly in Tripura, Mizoram, and Assam. These people have been facing displacement, violence, and persecution for decades due to ethnic conflicts, land disputes, and religious violence.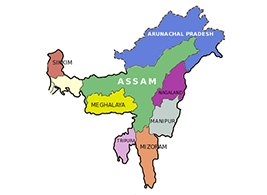 During the violent conflict of 1997, many Bru people fled from disturbed areas of Mizoram to Tripura after a series of lethal attacks by Mizo militants. They have been living in camps in poverty ever since, with very little access to basic amenities, education, health care, and employment opportunities.
Since then, the Bru refugees have been demanding, a permanent settlement in Tripura, where they feel secure and more culturally connected.
Under the continuous demand from Bru, in January 2020, a quadripartite agreement was signed between the Central government, the governments of Tripura and Mizoram, and Bru refugee representatives. The agreement aimed to permanently settle the Bru refugees in Tripura.
According to the agreement, nearly 14,000 Bru refugees were given permanent settlements in Tripura. They were relocated to 12 identified places in Tripura, facilitated by a financial package of ₹661 crore from the Central government.
As per the agreement, basic amenities like free ration, financial allowances, and some essential commodities were entitled to the Bru community.
Bru refugees voting rights
Earlier in 2019, before the signing of the quadripartite agreement in 2020, the Mizoram Bru Displaced People's Coordination Committee (MBDPC) raised its voice to not cast a vote in Kanhmun village, Mizoram. They were angry regarding the polling booth far away from their reach.
However, the officials conveyed that the election decision was taken by the Election Commission and stated that Kanhmun village was closest to the proximity of Bru refugee camp.
Looking at all the concessions in voting for the Bru community, many social groups and non-profit organizations opposed the Election Commission's decision and demanded that the Bru should be given to vote only when they came back to their homeland in Mizoram.
Mizoram government wanted the Bru people to return to their homeland, but, the Bru community is skeptical about their return, as there is a trust deficit between the Manipur government and the displaced Bru community.
According to the reports, the names of more than 6,000 Bru voters from nine assembly constituencies in their districts – Mamit, Kolasib, and Lungleia- have been struck off from Mizoram's voters list following their resettlement to Tripura under quadripartite agreement of 2020.
Many people from this community have expressed their thoughts. Some said they are happy with this move as they are no more refugees and have become permanent residents of Tripura. They consider Tripura to be safer, secure, and more culturally aligned.
Some said, they missed their homeland in Mizoram and were disheartened by this move, but concerning their safety, it is better to work and focus on the present and future that is in Tripura now.
Most people of the community raised concerns about their future, saying, yes, they now have permanent residency and some other facilities given to them under the quadripartite agreement of 2020, but what will happen after two years when the monthly stipend of 5,000 rupees stops? How will they sustain?
Conclusion
The exclusion of Bru refugees from the Mizoram voters list is against the trust building measure between the Mizoram government and the displaced Bru community.
What is the fate of Bru refugees still living in Mizoram? They have neither become a permanent resident of Tripura nor allowed to vote in the Mizoram Assembly election on 7 November 2023.
Looking at the present violent clashes in Northeastern states, it is important to maintain peace and harmony in the region. Northeast is already prone to an influx of illegal migrants, in conflict between the state and displaced people.
A sustainable solution to the Bru refugee crisis will require a long-term commitment between the state government of Mizoram and Tripura and the Bru community towards peacebuilding, smooth integration, and protection of their cultural identity.
If the Mizoram government wants Bru refugees to return to their homeland, it is essential to engage the displaced Bru community, other host communities, and the Mizoram government in dialogue to ensure their voices are heard, give them basic rights, build trust, and find mutually agreeable solutions.
Looking at the conflict-prone environment, it has become mandatory to establish dispute resolution mechanisms to address grievances and misunderstandings between different communities.
It is also important to maintain cooperation at the local, national, and international levels to provide the necessary resources and expertise to support the affected and displaced population and facilitate their peaceful return and integration.