Aitana Bonmatí won the prestigious Ballon D'Or award in Paris succeeding her FC Barcelona teammate, Alexia Putellas on 30 October 2023. She is the winner of the FIFA Women's World Cup Golden Ball.
In the voting for the award, Bonmati finished ahead of Chelsea and Australia's Sam Kerr and two of her FC Barcelona teammates, Salma Paralluelo and Fridolina Rolfö. They finished in the third and fourth positions respectively.
In her award acceptance speech, Aitana conveys that as role models, they have a responsibility on and off the pitch, to be more than athletes. She asked the youth to work hard and keep fighting together for a better, peaceful, and equal world.
Who is Aitana Bonmati?
Aitana Bonmati is a Spanish women's national team and FC Barcelona Femení midfielder. She was recognized as the best women's soccer player in the world at the annual Ballon d'Or awards ceremony, taking home the Ballon d'Or Féminin.
Bonmatí is only 25 and led Spain to its first-ever title at the 2023 FIFA Women's World Cup in August 2023.
She has a big gift of quick understanding of the game, which aids in her reflexes during transitions and forward runs in the matches. Being two-footed only adds to her ability to exploit spaces on either flank of the opposition's half.
The current Manchester City manager had once compared Bonmati with Spanish men's football legend Andres Iniesta for the same reason. She properly scans the field, looks for spaces to exploit, and starts an attack.
It is very prominent that Spain's next mega player is on the global stage now. She is a strong voice against any exploitation of women players in football games. Bonmati was vocal about one of the biggest scandals of the women's game, involving the president of the Spanish Football Federation (RFEF), Luis Rubiales, and the highest goal scorer in her national team, Jennifer Hermoso. She even said that no one should support 'abuse of power'.
What is the Ballon D'Or Award?
The Ballon D'Or was first organized by France Football magazine in 1956. It has been around for women since the year 2018.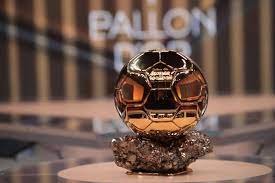 By considering the most coveted of international individual soccer awards, the trophy is based on three main criteria: individual performances demonstrating decisive and impressive character; collective performances and winning trophies; and class and fair play.
Conclusion
The FIFA Women's World Cup winner Spain became the first nation to produce two winners of the women's Ballon d'Or in its six-year history; one was Alexia Putellas for two years, and the other was Aitana Bonmatí.
Bomnati sets a perfect example of a magnificent women. She is an incredible player and raises a bold voice against any injustice against women players.