Jaipur, November 18, 2023: With the Rajasthan Assembly elections around the corner, the Congress party has unveiled seven major guarantees for voters in a bid to secure another term in the state. Chief Minister Ashok Gehlot announced these guarantees at a press conference in Jaipur. He stated that even Prime Minister Narendra Modi is following the "guarantee model" of the Congress government, which shows the party's commitments are impactful and deliverable.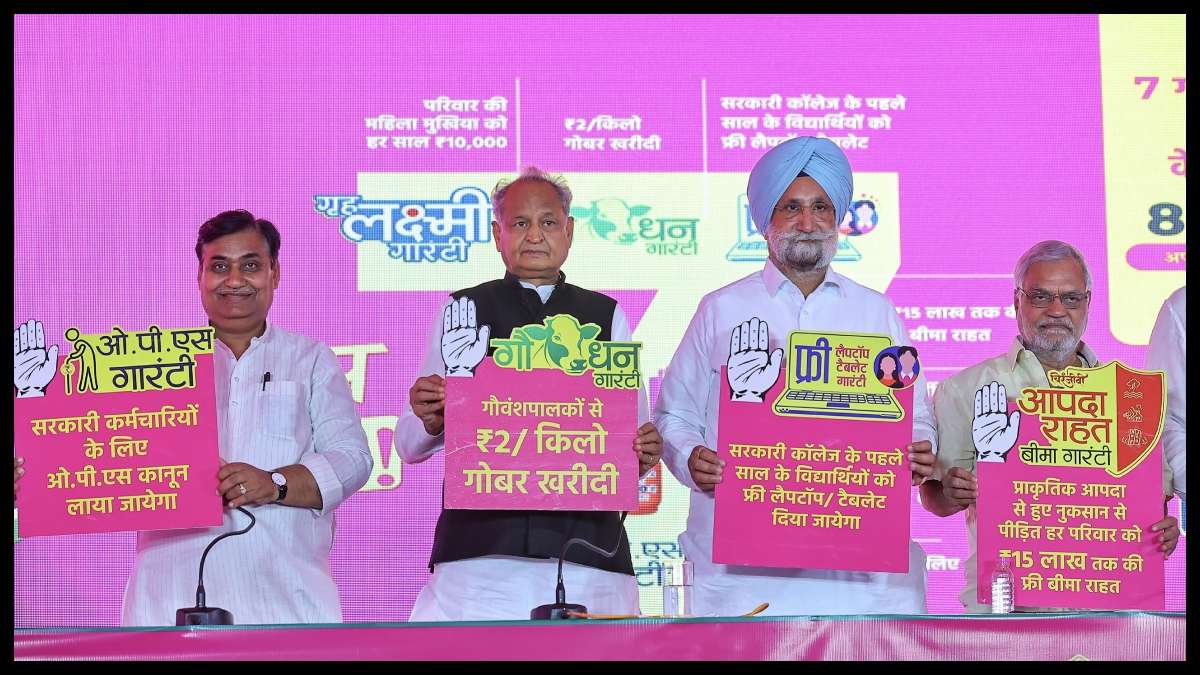 The seven guarantees include a law to continue the Old Pension Scheme (OPS), free laptops/tablets for college students, and English medium education in government schools. The other promises are buying cow dung at Rs 2/kg under 'Godhan Yojana', Rs 15 lakh insurance cover for natural disaster losses, Rs 10,000 annual aid for women heads of families, and subsidized LPG cylinders.
Law to Continue Old Pension Scheme
The Congress manifesto guarantees a law to ensure the continuity of the Old Pension Scheme in Rajasthan. OPS was reintroduced in Rajasthan in 2022 after being discontinued in 2004. It provides fixed pension benefits without employee contributions. The party promises to enact a law so no future government can rollback OPS for government staff.
Free Laptops/Tablets for College Students
The manifesto states first year students enrolling in government colleges will receive free laptops or tablets. This aims to provide equal opportunities to economically disadvantaged youth and equip them with IT skills. The party believes this will enhance their employability in the modern economy.
English Medium Education in Government Schools
The Congress pledges free English medium education in Mahatma Gandhi English medium schools run by the state government. This satisfies parents' demands for English education to increase their children's career prospects. The party aims to provide affordable English education accessible to the poor.
Godhan Yojana to Purchase Cow Dung
Drawing inspiration from the Chhattisgarh model, the Congress promises to procure cow dung at Rs 2/kg from cattle owners under 'Godhan Yojana'. This will promote cattle rearing and organic farming. The dung will be used to produce biogas and organic fertilizers through gauthans.
Rs 15 Lakh Insurance Cover for Natural Disasters
The manifesto guarantees Rs 15 lakh insurance cover to families for damage/losses from natural disasters like floods, droughts, lightning etc. This adds to existing coverage like Rs 10 lakh accidental insurance and Rs 25 lakh health insurance under the Cheranjeevi schemes.
Rs 10,000 Aid for Women Heads of Families
The Congress pledges Rs 10,000 annual financial aid in installments to women heading households. This aims at women empowerment and enabling them to support their families better. Earlier, the party promised subsidized LPG refills at Rs 500 to 1.05 crore families.
Congress Guarantee Camps in Every Constituency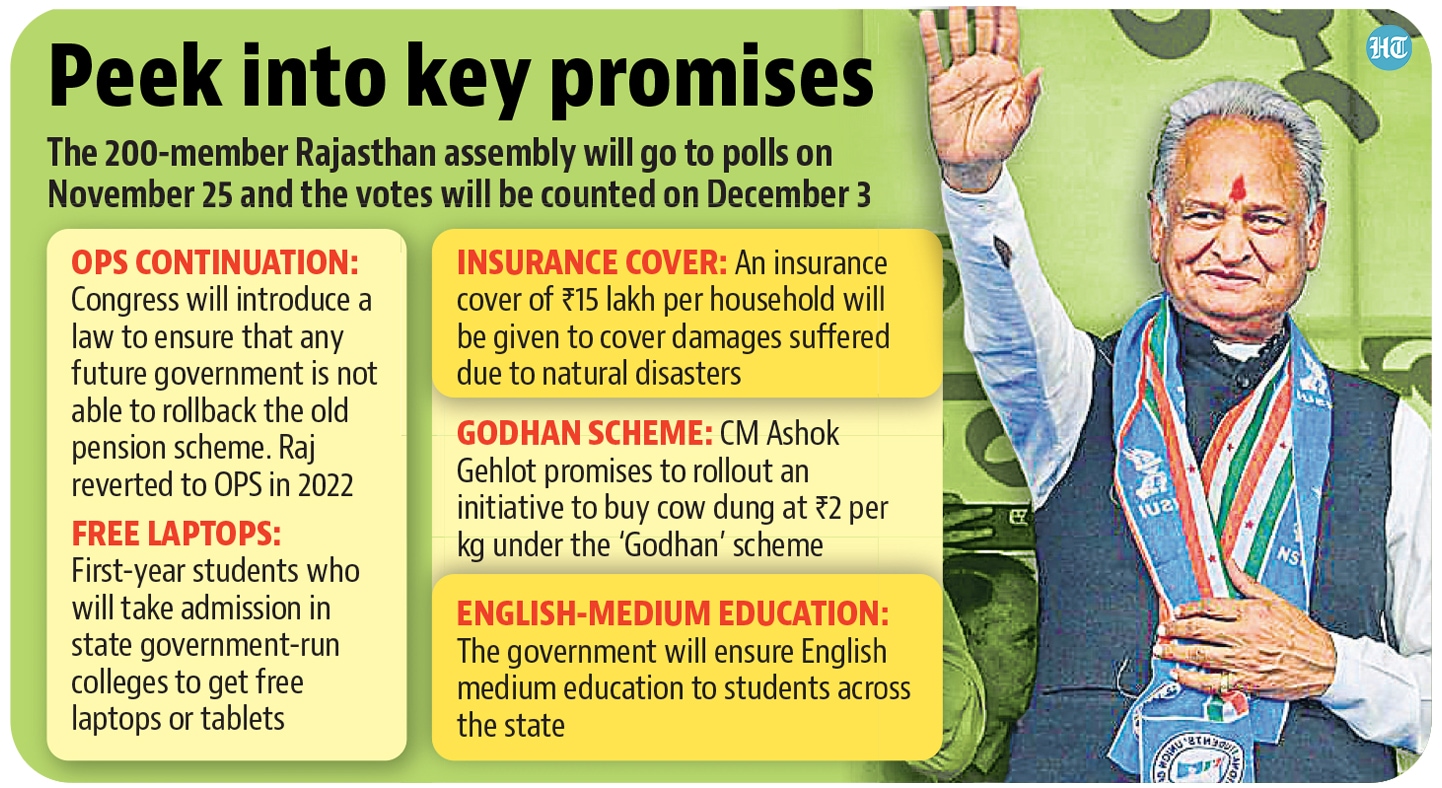 CM Gehlot stated the party will organize 'guarantee camps' in all 200 assembly seats to distribute 'guarantee cards' to voters, like earlier inflation relief camps. The party aims to fulfill the bare minimum guarantees if elected and even go beyond them. The CM said the loan waiver for farmers was fulfilled swiftly in 2018 as per Rahul Gandhi's promise.
The manifesto containing more promises will be released soon. The guarantees seem to have rattled BJP, which termed them false and aimed at misleading voters again. However, the CM expressed confidence people will not fall for BJP's criticism as Congress has gained people's trust by keeping past guarantees.
The additional sops indicate Congress is pulling out all stops to retain power in Rajasthan, where BJP remains a strong opponent. It remains to be seen whether voters prefer BJP's governance model or Congress' populist guarantees. The election outcome on December 8 will provide the answer. Both national parties have upped the ante with multiple promises in the quest to form the next government in the desert state.