US and China have decided to set their differences apart and meet for the greater good. News from Washington have confirmed that both the nations have been effectively working towards a possible summit between the world powers. China's foreign minister opened meetings with the Biden administration national security team to brighten the way for a summit between their leaders and keep in check the gamut of issues driving the countries' tensions.
The Biden-Xi summit is almost certain to take place alongside a gathering of Asia-Pacific leaders in San Francisco, some U.S. officials said. If it occurs, the meeting would be their first face-to-face talks in a year, repairing what U.S. and Chinese officials see as an indispensable channel to manage their countries' fractious global rivalry and try to forge cooperation amid deep distrust.
'China and the United States need to have dialogue,' Chinese Foreign Minister Wang Yi said at the start of talks with U.S. Secretary of State Antony Blinken.
US and China's agendas

The world super-powers have not been at good relations since a couple of years now. Middle-East conflict added nothing but salt to the wounds. Both the countries sent military assets to support their allies, raging a potential conflict for both China and the USA. 
On most of those issues, Washington and Beijing have struggled to find common ground. On Thursday, the Pentagon released video footage of what it said was a Chinese J-11 jet fighter coming within 10 feet of a B-52 bomber in international airspace above the South China Sea—the latest instance of what the U.S. said is a concerted People's Liberation Army strategy to conduct dangerous intercepts to try to scare off American forces.
On the lengthy agenda for the meetings that began Thursday are two hot spots. Secretary of State Antony Blinken, who held talks with Chinese Foreign Minister Wang Yi, said he wants to enlist Beijing's help in keeping the Israel-Hamas war from widening. China's harassment of Philippine ships trying to resupply a South China Sea outpost also drew a sharp warning from President Biden this week not to attack an US ally.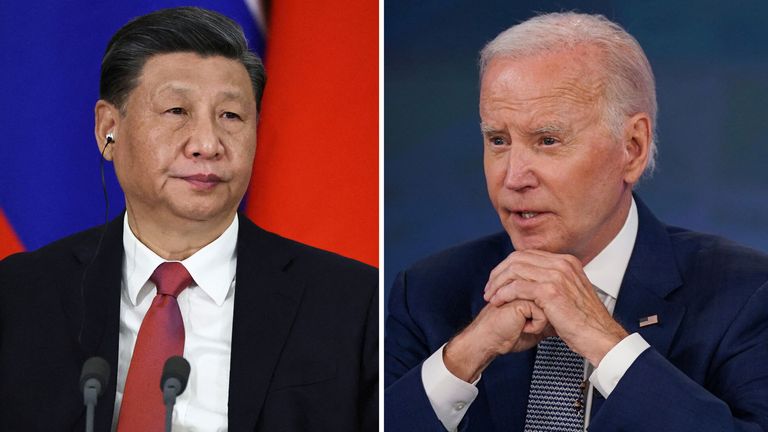 US and China's 1st Agenda : Beijing's help to the USA in Israel-Hamas War
China maintains a very healthy relationship with Iran; who have played their part in the Israel-Hamas conflict. Biden's administration is hoping to convince Beijing to use their 'middle-east- influence and halt this inhumane killings. Israel cannot be pushed into dialogues considering how agonised they are and Gaza can't do nothing but suffer from the bombings. Iran is a huge asset in the middle-east. The only one player in world politics who could try to halt this war and potentially succeed is China.

US and China's 2nd agenda : China's harassment of Philippine ships
The Philippines on Tuesday said it had successfully delivered supplies to marines aboard the BRP Sierra Madre, a dilapidated military outpost in the contested South China Sea, despite attempts by Chinese vessels to block the mission.
The National Task Force for the West Philippine Sea said in a statement that it successfully delivered supplies to the stranded landing ship on the Second Thomas Shoal in Manila's exclusive economic zone, which China calls Renai Reef and also claims as its sovereign territory.
The Philippine Coast Guard released video of two Chinese Coast Guard vessels attempting to block a Philippine resupply ship in the South China
USA hopes to convince China to stop such activities as it hurts USA's ally. Amid talks about peace Biden is optimistic enough about getting China on the same page.
US and China's 3rd Agenda : US-China's bomber jet incident
Pentagon released a video where, Chinese jets are seen flying within 10 feet close to the USA bomber jets over the South Sea. USA primarily hopes to clear such things out. They want to clarify that Beijing shouldn't do any such activities where the world-power is unable to help its allies.
Conclusion
China-USA have had a rollercoaster relationship over the years. But the world cannot forget the amount of power between these nations. The two biggest economies and the biggest military assets. China certainly has the ability to negotiate middle-east peace with Iran.
With the Chinese economy struggling with lower growth and falling investment from overseas, a summit would give Xi an opportunity to show that China wants to put tensions aside, potentially boosting business confidence. Xi is also likely to seek assurances from Biden on Taiwan, long the central flashpoint in ties, China specialists said. Taiwan holds presidential elections in January, and Beijing wants Washington to stay neutral and not help the ruling party's candidate, whom China distrusts.
For Beijing, the optics of U.S. summits are important, with a chance for a Chinese leader to be seen as a respected peer of the American president. Both sides have been negotiating over where to hold the meeting, scouting out venues other than where APEC leaders will meet.
Does the world see China halting the Middle-East war or China becomes a villain forever?