USA Secretary of Treasury, Janet Yellen said in a statement on Thursday that US is importing from India more than China. She said USA-India relations are stronger than ever.
Yellen said this while confirming that she, along with President Biden will host Asia-Pacific Economic Cooperation (APEC) Leaders' Week later this month in San Francisco, California.
US is committed to an Indo-Pacific that is free and open, connected, prosperous, secure, and resilient," she added.
Treasury Secretary Janet Yellen and President Joe Biden.
The country's top financial official, Janet Yellen also said that Washington does not seek to decouple from China too. Though not explicitly but the Treasury Secretary and Biden administration seem to have attacked China by claiming India is growing to be a better ally than Beijing. The move comes after USA-China were meeting over a few agendas which included trade and bilateral talks.
Both the big economies have had a rocky relationship over the years. Major USA companies who had their headquarters for Asia-Pacific region in China have left Beijing for New Delhi.
Yellen further highlighted three near-term aims for the Biden administration set towards the Indo-Pacific region; increasing trade and investment, bolstering economic resilience, and cooperating on global challenges.
"First, the Biden Administration is committed to expanding our trade and investment with Indo-Pacific countries. Trade between the US and the Indo-Pacific region has steadily increased over the past decade, reaching $2.28 Trillion in 2022".
It has increased over 25% since just 2019, despite a pandemic dip. Indeed, trade in most sectors recovered to pre-pandemic levels by 2021 and then continued to grow.
The statement added, "Across sectors from auto parts to electronics, the US is importing more from key partners like India and Vietnam, as well as from Mexico, and is less dependent on one single country, in this case, China". She also said that US does not seeks to decouple with China.
Japanese PM, Fumio Kishida, USA President, Joe Biden and Indian PM, Narendra Modi.
USA-India Trade Relations and agendas discussed during the most recent US State visit
The USA-India strategic partnership is founded on shared values including a commitment to democracy and upholding the rules-based international system. The relations acheived new heights with the recent visit of PM Modi to USA in June 2023.
Both have shared interests in promoting global security, stability, and economic prosperity through trade, investment, and connectivity.
The bilateral trade between India and the USA has increased by 7.65% to $128.55 Billion in 2022-23 as against $119.5 Billion in 2021-22.
Exports to the USA rose by 2.81% to $78.31 Billion in 2022-23 as against  $76.18 Billion in 2021-22, while imports grew by about 16% to $50.24 Billion.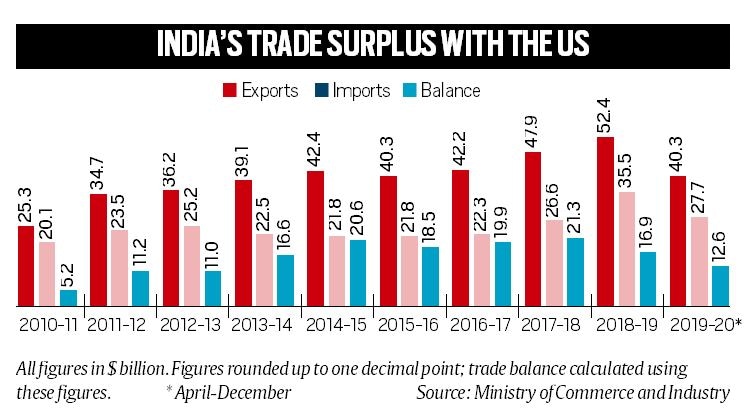 The highlights of the most recent USA State visit :
1)US amended its section 232 of US Trade Expansion Act, 1972 and removed additional duties on Indian exports of steel and aluminium.
2) US will receive and consider requests for exclusions from Section 232 with approval rates of 70% for steel and 80% aluminium products of India.
In return, India would remove additional duties on US exports and will allow them on Most Favoured Nations (MFN) applied rates for 8 products.
3)USA-India agreed upon the manufacturing of the electric jets in India which was the primary part of the deal. The deal is anticipated to peg billions of dollars in the Indian economy.
4)Both the nations have decided to use diplomacy and negotiations to resolve all the matters if there are any. This will set a template for others to emulate.
5)India will safeguard basic rights and imports. In return, USA will take care of excessive retaliatory measures.
How did India manage to overtake China in becoming USA's biggest trade partner? 
The past few years have been nothing but glorious for both the nations. A sense of true friendship has been cultivated among both the nations. But how did India manage to become USA's biggest trade partner? 
1)Presence of Indian diaspora in the USA is one of the main reasons for increasing bilateral trade. A balanced trade deal can further boost the economic ties.
2)India and the USA are negotiating a limited trade pact with a view to iron out differences at trade front and boost commercial ties.
3)India's IT services exports to the USA, which depend significantly on the H-1B visa has been an important constituent element of bilateral economic trade.

Image: Shutterstock
4)There is a huge potential to boost bilateral trade between the countries on account of increasing anti-China sentiment in both the nations. Because of the anti-China sentiment, several USA companies are exploring new suppliers in countries like India to cut dependence on China. Apple, Nike, Adidas and many more have made it out of the vicious Chinese circle.
5)The recent visits organised by both the countries have resulted in formation of a harmonious relation between the two which is based on trust.
6)India's long vision, strong stance and the ability to stay away from unnecessary drama has attracted USA.
7)The atmosphere in China had lately become very hostile for the business companies to operate meanwhile India offered incentives, offers and very peace-like atmosphere for business firms to settle.
8)China's latest struggles like property crisis, unemployment, decelerating economy and dictator like rules made it impossible for other countries including India and USA to have talks. Beijing got trapped in its own problems and the world kept moving on.
9)The rise of Indian economy built an atmosphere of trust, where India's stance was focal. Companies and countries understood that Chinese wall was falling and the way for progress was indeed India.
10)The stand which India took against terrorism impressed USA and the world. The plans and actions which India was ready to take against a common problem was formidable. China was never clear on terrorism as they had given loads of amount of loan to the epicentre of terrorism, Pakistan.
Noel Celis / Getty; The Atlantic
11)The reception which USA leaders got in India really gave a feeling of familiarity. Indian Prime Minister and other leaders felt the same love from the Indian diaspora and the USA citizens there.
What are the major commodities of USA-India trade?
The top 5 products which USA imports from India are;  pearls and jewelleries which account for more than $16 Billion, Pharmaceutical products which account for over $9 Billion, Machinery, Nuclear reactors and Boilers which account for over $6.45 Billion, Electrical and electronic equipments accounting for a little more than $6 Billion and Organic chemicals accounting for more than $5 Billion. 
The top 5 products which India imports from USA are; Minerals, fuels and oil distillation products which account for over $20 Billion, Optical photo and Medical apparatus products which account for $1.7 Billion, Plastics and Plastic related products which account for $1.5 Billion, and Aluminium and Aluminium related products which account for $1.2 Billion. 
Conclusion
USA-India are a partnership to look forward to. India will be the biggest trade centre in Asia Pacific region in the coming decades and USA is already prioritising New Delhi, where it matters the most.
The absence of China from the entire graph denotes a world and trade lines full of peace and success. The major companies which will invest in India in the coming years will boost our relations with the USA.
Does the world see a world without China? or eventually China will remain prominent?