Australia's Foreign Minister, Penny Wong and Defence Minister Richard Marles are set to visit India to take part in the two-plus-two ministerial dialogue on Monday that is likely to focus on further shoring up strategic ties between the two countries, people familiar with the matter said.
"We are expecting Australia will be well represented at the World Cup Final," a spokesperson at the Australian High Commission said when asked whether Marles or Wong or both will watch the match.
Defence Minister Rajnath Singh and External Affairs Minister S Jaishankar will lead the Indian delegation at the '2+2′ dialogue that will take place on Monday evening in Delhi, the people cited above said.
All the four ministers may hold a press conference on Tuesday. The two sides are expected to focus extensively on further ramping up the overall defence and security ties and boost strategic cooperation in the Indo-Pacific region in the "2+2" ministerial dialogue, the people said.
The Mutual Logistics Support Agreement (MLSA) allows the militaries of the two countries to use each other's bases for repair and replenishment of supplies, besides facilitating scaling up of overall defence cooperation.
Australia recently had '2+2' dialogues with China and India has had this system of communication with various countries including the USA; What is '2+2' Ministerial talks?
A '2+2' is a term — adopted in foreign parleys — used for installation of a dialogue mechanism between two countries' defence and external affairs ministries.
To put it simply, 'two plus two dialogue' is an expression used to indicate that two appointed ministers from each country, the ministers of defence and external affairs in this case, will meet up to discuss the two countries' strategic and security interests. The goal is to establish a diplomatic, yet fruitful, conversation between the two countries' respective heads of defence and external affairs.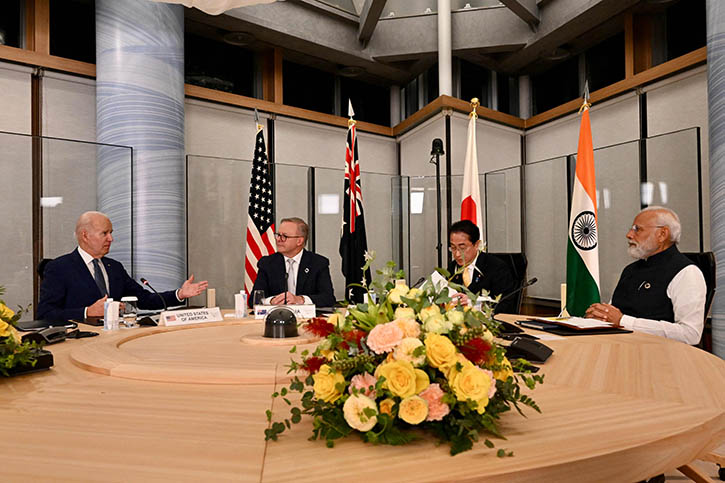 The 2+2 diplomatic discussion have gained a lot more normalcy ever since the diplomatic summit of 2018. India-USA have maintained such decorum and made the most out of it. Australia and China were also in this kind of dialogues in regards with the trade and defence bilateral talks.
Relations between Australia and India
Political Relations
While there has been a regular exchange of visits at Ministerial level, bilateral visits at Head of Government/Head of State level have been limited. PM John Howard visited India in July 2000 and again in March 2006.
Prime Minister Kevin Rudd visited India in November 2009, when it was agreed to take the relationship to the level of a strategic partnership. Vice President Shri M.Hamid Ansari represented India at the CHOGM 2011 held in Perth from 28-30 October.
At the level of EAM, there have been visits by Mr.Jaswant Singh in June 2001 and for the CHOGM Summit in March 2002. Mr.Yashwant Sinha visited in August 2003; Mr. Pranab Mukherjee visited in June 2008.
External Affairs Minister, Mr. S.M. Krishna visited in August 2009; in January 2011 for the Foreign Ministers' Framework Dialogue and in October 2011 for pre-CHOGM Foreign Ministers' meetings at Perth. From the Australian side, both Mr. Gareth Evans and Mr. Alexander Downer visited India several times in the period 1989-1995 and 1996-2005 respectively.
Foreign Minister Stephen Smith visited India in September 2008, in October 2009 and in March 2010. Foreign Minister Kevin Rudd visited Bengaluru in November 2011 to attend the IOR-ARC Council of Ministers' meeting.
Both the countries co-operate in various multilateral fora. Australia supports India's candidature in an expanded UN Security Council. Both India and Australia are members of the G-20, Commonwealth, IOR-ARC, ASEAN Regional Forum, Asia Pacific Partnership on Climate and Clean Development, and have participated in the East Asia Summits.
Both countries have also been cooperating as members of the Five Interested Parties (FIP) in the WTO context. Australia is an important player in APEC and supports India's membership of the organisation. In 2008, it became an Observer in SAARC.
Defence Relations
Defence Cooperation between the duo has expanded significantly in recent years. An MoU on Defence Cooperation has been signed as well as a Joint Declaration on Security Co-operation was signed.
There are frequent exchanges of visits including at the level of Service Chiefs, regular Naval, Air Force and Army Talks; joint naval exercises; regular exchanges at each other's training institutes and seminars. Defence Minister Stephen Smith visited India in December 2011 for Defence Ministers' Dialogue.
The bilateral defence and strategic ties between both the nations are on an upward trajectory in the last few years. In June 2020, the duo elevated their ties to a comprehensive strategic partnership and signed a landmark deal for reciprocal access to military bases for logistics support.
Trade & Investment Relations
Both the country's economic relationship has grown significantly in recent years. As part of its
efforts to develop strong economic relationship with India, the Australian Government
commissioned the India Economic Strategy to 2035 to define a pathway for them to unlock
opportunities offered by Indian Economic growth.
The paper was released in July 2018. An update to the India Economic Strategy was released in April 2022. CIM Shri Piyush Goyal released the CII Australia Economic Strategy Report in December 2020. The report gives a macro-overview of Australia, reviews their business environment, highlights market opportunities in them for Indian products and delineates investment and cooperation opportunities in 12 focus sectors and 8 emerging sectors.
The India-Australia Economic Cooperation and Trade Agreement ("IndAus ECTA") was
signed on 2 April by CIM Hon. Shri Piyush Goyal and former Australian Trade and Tourism
Minister Hon. Dan Tehan in a virtual ceremony, in the presence of PM Modi and former PM
Hon. Scott Morrison. CIM Shri Piyush Goyal visited them from 5-8 April 2022 after the
signing of ECTA.
The visit included engagements with Trade Minister Hon. Dan Tehan, Hon. Jason Wood, Assistant Minister for Customs, Community Safety and Multicultural Affairs, Hon. Alex Hawke, Minister for Immigration and Multicultural Affairs, Hon. Roger Cook, then Deputy Premier of Western Australia and Minister for State Development, Jobs and Trade, Tourism, Commerce and Science and Hon. Madeleine King, then Shadow Trade Minister. CIM also held meetings with Australian business & CEOs and the Indian community in Australia.
Australian Parliament has ratified the agreement on 22 November 2022 and entered into force from 29 December 2022. Legislation on DTAA, alongside ECTA passed in Australian Parliament and came into effect with the Entry into Force of ECTA. The Indian IT companies will not be double taxed with effect from the financial year 2023-24. Both sides are also engaged in negotiations for a Comprehensive Economic Cooperation Agreement (CECA).
India is their sixth largest trading partner. Bilateral trade both the nations increased from $ 22.2 Billion in 2021 to $ 31.4 Billion in 2022, registering a growth of 41%. India's total exports to them grew by 38% from $ 6.3 Billion in 2021 to $ 8.7 Billion. Similarly, their exports to India grew by 42% from $ 15.9 Billion in 2021 to $ 22.5 Billion.
India's main exports to Australia are refined petroleum, medicaments (incl. veterinary), pearls
& gems, jewellery, made-up textile articles, while India's major imports are coal, confidential
items of trade, copper ores & concentrates, natural gas, non-ferrous waste & scrap, ferrous
waste & scrap and education related services.