Honda, Japanese major automobile manufacturer revealed they will not stop investing in the Indian market. The company also has identified a particular strategy for the Indian market. The strategy will be headed by 'non-stop acceleration in electrification of vehicles' by 2050.
At the global level, Honda is open for alliances and collaboration with other firms if it offers a "win-win" situation in the wake of new development in the mobility sector, Honda Motor President and CEO Toshihiro Mibe told visiting Indian journalists at the company's Indian headquarters  in an interaction.
Honda Motors CEO Toshihiro Mibe.
More about Honda's ideal future in India
The Japanese carmakers have always been one of the most trustworthy automobile companies in India alongside Suzuki. 
"Our strategy is to achieve carbon neutrality by 2050. To achieve that, we have milestones set for 2030-35 and 2040. For Honda, the Indian market is a big market and it is the market where electrification is rapidly progressing for both cars and two-wheelers," Toshihiro Mibe said.
Underlining the significance of India, Asian Honda Motor Co President & CEO and Head of Regional Operations (Asia & Oceania) Toshio Kuwahara said, "The Indian market is quite important for us because of its scale. It is already number seven in the world for us (in terms of units sold)." Excluding China, he said," When we look at the Asia Pacific region, electrification or the market for electric vehicles is going to be critical and because India is an important one, we think that there should be an emphasis on India as well."
With the restructuring of its operations in India behind, Honda had in June this year announced plans to launch five new SUVs, including a fully electric model, in India by 2030 as it tries to revive its fortune in the country, where SUVs have been the fastest growing segment in the passenger vehicles segment.
Elevate is the first SUV among 5 new premium SUVs planned to be launched by Honda in India by 2030. A Battery Electric Vehicle (BEV) based on this SUV is planned to be launched in India within 3 years in line with Honda's global vision towards carbon neutrality.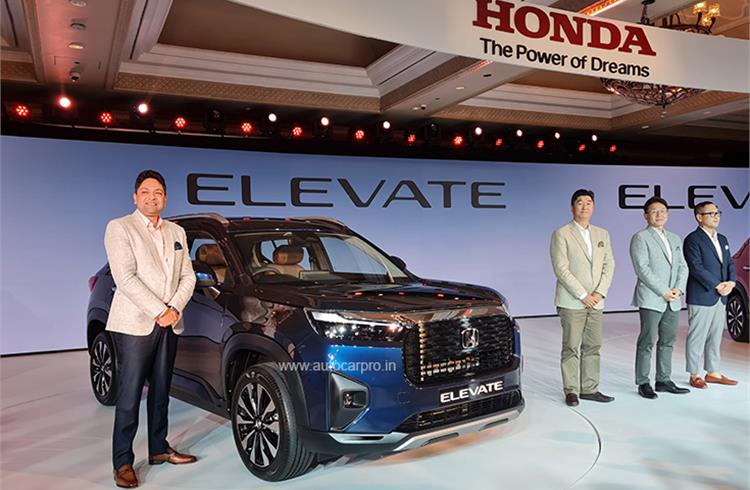 When asked about investments on the new launches and the company's electrification programme, Honda Cars India Ltd President & CEO Takuya Tsumura  said, "Our target is to launch a battery electric vehicle within the next three years, so naturally, there will be some amount of investment for them. Our plan is to keep progressing, pushing forward our electrification."
However, Tsumura said, "In terms of any specific amount of investment today at this moment, we can't really disclose that." He also said as for powertrains and the acceleration of electrification for Honda in India, the company will follow its global policy.
Honda's profits in India in the recent years
On the back of restructured organisation and improved volumes, Honda Cars India has posted over 521% profit in operation for FY23 at Rs 1430.97 crore.
This is the second consecutive year of profit registered by the maker of City and Amaze last fiscal year, having been in losses since FY20.
This is the highest-ever profit recorded by the company, bettering Rs 1141 crore profits it registered in FY19.
The highest ever exports and improved volumes in the domestic market helped Honda Cars India post a 14% increase in revenues for FY23 at Rs 14,439.71 crore or $1.72 Billion in revenues.
The star-performers in this sky-rocketed numbers were the 2 family sedans, Amaze and Honda City. The Amaze's sales grew by 33% since last financial year and is one of the most preferred family sedans in India. The Honda City has continued its legacy of success by being the largest-selling mid-size sedan in the country during the last year.
The company posted its best ever exports volume of 22,764 units during the year 2022-23, registering a growth of approximately 17% since last year. Further, export of parts and components stood at Rs 1149.97 crore during the financial year.
Conclusion
The Japanese carmakers has nothing to prove in India. Ever since its entry in the Indian car market the quality of has spoken volumes. All of the vehicles are manufactured in India. Boost in Honda's sales boosts the Indian economy.
Civic and Accord are undoubtedly the most iconic cars which were used by almost every Indian. The company stopped Accord's manufacturing considering a series of low sales.
Does the expansion plan includes bringing back the iconic vehicles or does Honda keep the similar strategy?