Patrick Drahi, the Israeli-French billionaire has reportedly rendered his famous Altice telecommunications in a tremendous turmoil, after the interest rates have sky-rocketed on his debt ventured deals.
After Altice, he started buying up cable companies in France, Belgium and Portugal through a series of debt-fuelled deals, progressively building a telecoms empire spanning from Israel and the United States to the Dominican Republic. He controls France's second-biggest telecoms firm SFR on top of the most-watched news channel in the country, BFM TV. He also owns the largest telecoms firm in Portugal.
Patrick Drahi, the founder and controlling shareholder of telecoms and cable firm Altice, arrives for a hearing on the concentration of media ownership in the country, at the French Senate in Paris, France. REUTERS.
Who is Patrick Drahi?
While some billionaires revel in the spotlight, Patrick Drahi cultivates discretion. His investment track record, however, speaks for itself and has seen the kid from Casablanca build one of the world's biggest media and telecommunications empires. He is also known as the "Media Baron".
Patrick Drahi arrived in France at the naive age of fifteen, but quickly caught up and overtook his classmates – graduating high school a full two years early. Following a stint at the Paris Polytechnic, he went on to study at the city's National School of Telecommunications.
It was as a salaried employee at Philips that he began his journey to the top. Assigned to head up the satellite television systems division, his two years in charge saw turnover rise from 10 Million to 1 Billion francs (from $1.7m to $173m, adjusting current exchange and inflation rates). After a stint at Swedish telecoms group Kinnevik, Drahi decided to enter the telecom space himself.
In 1993, he began consulting and founded Sud Cable Service and Médiaréseaux. This was an opportunity for him to interact and work with elected officials; who would prove useful to him in the years to follow. In 1999, he joined the American cable television giant UPC, to direct its western and southern European activity. He sold his stake in UPC in 2001.
Within a few years time, Altice seized 99% of the French market and soon got listed in the Amsterdam Stock Exchange. It was about time for Drahi to play in the big leagues.
With the rise of Altice, Patrick Drahi was now being mentioned in the same breath as Martin Bouygues and Xavier Niel, his main rivals in France. The difference, though, was they both possessed media empires. He wanted the same.
In 2013, he launched Israeli TV channel i24news, designed to show the world "the true face of Israel" by broadcasting in English, Hebrew, Arabic and French. But it was his investments in France that really cemented his position as a media mogul, saving the French daily Liberation from closure then buying L'Express newspaper in quick succession.
In July 2015, it was the turn of Next Radio Group, whose channels include BFMTV, a rolling news network, and RMC Sport, broadcasters of the Champions League in France.
The businessman splits his time between France, Switzerland and Israel, and when in Israel he stays at Tel Aviv's chic Rothschild tower. Drahi describes himself as a liberal Jew. His wife Lina is a Syrian Christian who converted to Judaism.
But if he resides in Tel Aviv for part of the year, it has more to do with business than his cultural heritage or the beach. Aside from i24news, his interests there include the cable operator Hot and the telephone company Mirs.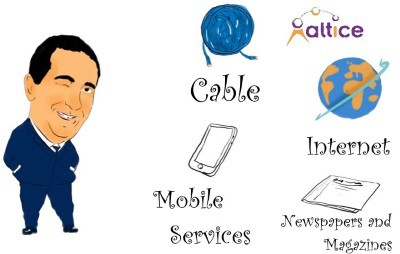 Patrick Drahi's empire, what happened to it?
In 2017, billionaire Patrick Drahi made an audacious move: spinning off the US arm of his telecoms empire from its heavily indebted European parent in one of the biggest initial public offerings of that year.
The listing was designed make Altice USA debt-free to embark on a series of ambitious acquisitions and a big infrastructure-building spree that would be the face of his North American empire. But five years on, Altice USA's share price is diminished at less than half its launching price.
 FT montage/Shutterstock
Drahi, who owns 48 per cent of the company, is sitting on more than $4Billion in paper losses from a collapse in valuation since December 2020, according to data from S&P Capital IQ. The company kept losing consumers, their rivals kept marching ahead despite of loses made by the French-Israeli entrepreneur. The USA strategy couldn't not have gone any more wrong than it already did.
The primary reason remains, that the investors are not buying Altice's optic-fibre strategy after a series successive failures. The investors remain firm that this new strategy would not be able to drive down the prices and acquire new customers.
He was not able to scale businesses once he acquired them. Drahi, went on to buy many companies but with debt-fuelled strategies. The humongous amount of debt on the company killed its ability to grow and scale further. The growing interest rates and rising number of consumers leaving the services took a heavy toll on the company.
Experts said that while Altice USA slashed costs and sought acquisition opportunities, it failed to invest in its network and service, causing customers to exit in wholesale.
Although revenue from mobile customers has risen reasonably for its rivals over the past accounting year, this has not happened for Altice. It managed to bag only 5,000 wireless subscribers in the fourth quarter of 2021, taking its total to 186,000.
Although Drahi hasn't been dragged into the corruption scandal, he has had other brushes with the law. He's accused in Switzerland of faking a separation from his wife for tax reasons, according to media outlet Heidi.
Loses and corruption scandals ruined what could be a perfect dream for Drahi. The corruption scandals against him adversely affected the share prices which continued to fall.
Many believe this is the end for Drahi and his new optic-fibre venture will be an even bigger loss. Analysts have predicted he's made an audacious and ambitious move which is bound to go south considering his image in the market and his series of failed strategies.
Can Patrick Drahi prove the nay-sayers wrong or is the French-Israeli heading towards another turmoil, that could potentially end his entrepreneurial days?
FT/Reuters