In the early months of 2021, a humanitarian crisis unfolded on the border between Myanmar and India, as citizens fled their homeland in search of safety and stability. Escaping political turmoil, violence, and a military coup, a wave of Myanmar citizens sought refuge in the northeastern state of India, Mizoram. New wave of Myanmar refugees was born. Among them were families, elders, and children who found solace in the Sihhmui camp, located about 25 kilometers from Mizoram's capital city, Aizawl.
These individuals, numbering approximately 130, brought with them not only harrowing tales of their journeys but also a desperate hope for a better future. Their expectations from the incoming Mizoram government are rooted in the most fundamental of human needs – sustenance and education.
They seek two regular meals to alleviate their daily struggles, access to quality education for their children, and an improved living environment that befits their status as temporary residents.
The origin of this exodus can be traced back to February 2021, when Myanmar experienced a devastating military coup. In its aftermath, waves of civilians found themselves facing unbearable living conditions and fear for their lives. Among these refugees were those from the Chin state, a region particularly impacted by the coup's aftermath.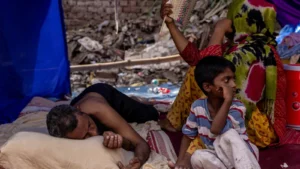 The initial response from Mizoram was swift and compassionate. Relief assistance, including rations and essential items, was provided to over 31,000 refugees, including those residing in Sihhmui.
However, this lifeline was unexpectedly halted in September, leaving these families scrambling for jobs and struggling to secure even the most basic of amenities.
Demands of the Myanmar Refugees
Sustained Ration and Essential Supplies:
For these displaced families, the assurance of sustained rations and essential supplies is not merely a convenience but a lifeline. The abrupt cessation of aid in September has left them in a state of uncertainty and desperation. In a region unfamiliar to them, reliable access to food and essentials is paramount for their survival.
Access to Basic Medical Care:
The need for improved medical facilities is a pressing concern for the refugees. The current circumstances, compounded by the lack of access to proper healthcare, puts them at risk, particularly women and children. A robust medical support system is critical for their overall well-being.
Better Living Conditions:
Presently, the refugees reside in temporary shelters, constructed with tin roofs and bamboo walls. These makeshift structures, while offering some semblance of shelter, are far from ideal. Challenges with water supply, sanitation, and other basic necessities persist.
The refugees hope for improved camp facilities, including adequate living arrangements, to enhance their overall quality of life.
Quality Education for Children:
Education forms the bedrock of a child's future, and this fundamental right is of paramount importance to these displaced families. However, language barriers pose a significant challenge. Most local schools conduct classes in Mizo, creating an obstacle for the children's education in English, which they believe is crucial for future employability.
While there are unacknowledged schools teaching in their native language, they lack government support. The refugees advocate for more inclusive language policies to ensure the educational needs of their children are met.
Analysis and Perspectives:
The Mizoram government's initial response in providing shelter and assistance to Myanmar refugees is a testament to the state's humanitarian ethos. However, the sudden halt of aid has left the refugees in a precarious position. As the state prepares for elections, the refugee issue has emerged as a pivotal concern.
Potential Impact on 2023 Mizoram Elections:
The refugee issue has gained prominence in the lead-up to the assembly elections. Both the ruling Mizo National Front (MNF) and the Zoram People's Movement (ZPM) have prominently addressed the matter in their election manifestos.
The promises made by political parties hold significant weight for these displaced families, who are eagerly looking to the new government for support and stability. MNF through its political manifesto is working towards Zo unification.
Recommendations for addressing the needs of Myanmar Refugees
To effectively address the needs of Myanmar refugees in Mizoram, the incoming government must consider the following:
Reinstate and Ensure Sustained Relief Assistance:
The immediate reinstatement of rations and essential items is imperative for the well-being and survival of the refugees. This support provides them with a measure of stability in a tumultuous time.
Language Support in Education:
Offering English education options, alongside support for local language schools, is essential to bridge the educational gap for refugee children. This inclusivity in language policies ensures that all children have access to quality education.
Enhance Healthcare and Camp Facilities:
Improving medical facilities and camp amenities will significantly contribute to the refugees' overall well-being. Adequate healthcare is a fundamental right that must be extended to all residents, regardless of their refugee status.
The plight of Myanmar refugees in Mizoram is a pressing concern that demands immediate attention. The incoming government must prioritize their basic needs and education. As Mizoram prepares for elections, addressing the concerns of these displaced families not only showcases compassion but also resonates with the electorate. A compassionate approach can pave the way for a brighter future for both the refugees and the state of Mizoram. In doing so, Mizoram reaffirms its commitment to humanitarian values and demonstrates that, even in the face of adversity, empathy and support can prevail.