North Korea has officially notified Tokyo of their intentions of launching a spy satellite as soon as on coming Wednesday. Pyongyang have also said that they are giving Japan a nine-day window which ends on 30th November.
Japan has urged its friend South Korea to urge the North to not proceed with this as it would be a violation of the UN resolutions.
Pyongyang has twice failed this year to get a spy satellite into space. The Japan Coast Guard said Pyongyang's notification designated three maritime zones believed to be the areas where debris from the rocket carrying the satellite will fall.
Two are to the west of the Korean Peninsula and the other is to the east of the Philippines' island of Luzon. Kang Ho-pil, chief director of operations at the South Korean Joint Chiefs of Staff, warned that Seoul will take "necessary measures" should the launch proceed.
Russian President Vladimir Putin suggested in September after a meeting with Mr Kim that Moscow could help North Korea build satellites, but the details of what was actually promised are unclear.
Earlier this month, South Korea announced plans to launch its own spy satellite by the end of November. The satellite is to be carried by a rocket from Elon Musk's founded company, SpaceX. This is reportedly the first of five spy satellites Seoul plans to launch into space by 2025.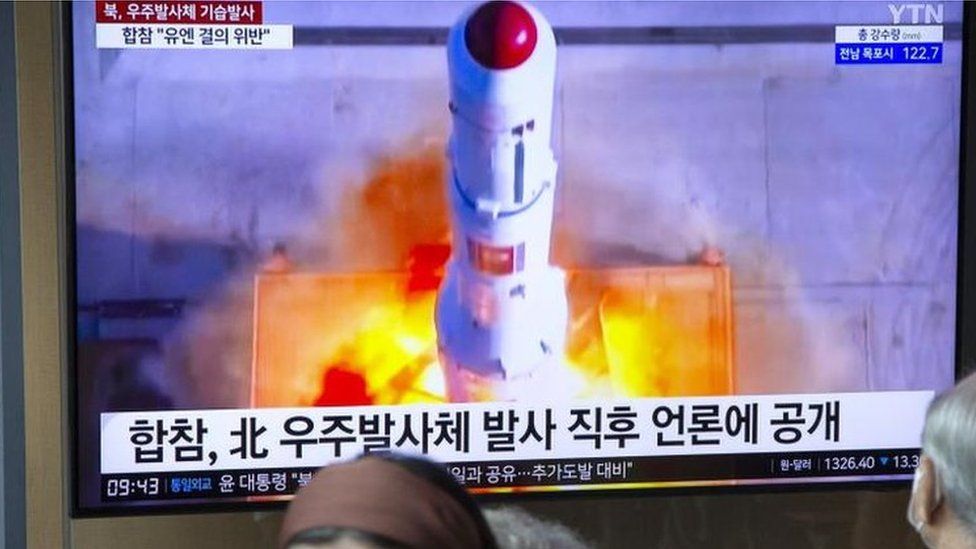 Why is North Korea so keen on launching spy satellites?
A spy satellite is a coveted prize for Kim Jong Un, as it will allow him to monitor incoming attacks and plot his own more accurately.
However the United Nations Security Council has banned Pyongyang from launching satellites because it sees them as a pretext to test the North's missile technology.
South Korea retrieved debris from the North's first try in May of this year and said the satellite had "no military utility". After a second shot in August of this year failed, Pyongyang's space agency said it would try again in October but did not do so.
In short, to keep an eye on the USA and South Korean military operations. Also, in the event of a war, a satellite would help identify targets for missiles, some of which could be nuclear tipped.
The satellite program reflects North's efforts to assert its presence in space and establish itself as a regional power in terms of military capabilities and surveillance technology. Despite the unsuccessful launch, the government expressed its intention to make another attempt to launch a satellite.
This determination may stem from their desire to advance their space program, despite the challenges they have faced in achieving successful satellite launches in the past.
Kim Jong Un's ambitions are driven by the fuel of keeping an eye on East Asia and to bolster North Korea's space programs.
What are UN's resolution about spy satellites; the one which North Korea seems to be breaching?
The United Nations Security Council has adopted nine major sanctions resolutions on North Korea in response to the country's nuclear and missile activities since 2006.
Each resolution condemns North Korea's latest nuclear and ballistic missile activity and calls on North Korea to cease its illicit activity, which violates previous UN Security Council resolutions. All nine resolutions were unanimously adopted by the Security Council and all but Resolution 2087 (January 2013) contain references to acting under Chapter VII, Article 41 of the United Nations Charter.
In addition to imposing sanctions, the resolutions give UN member states the authority to interdict and inspect North Korean cargo within their territory, and subsequently seize and dispose of illicit shipments.
The resolutions also call upon North Korea to rejoin the nuclear Non-Proliferation Treaty (NPT), which it acceded to in 1985 but withdrew from in 2003 after U.S. allegations that the country was pursuing an illegal uranium enrichment program. The Security Council also has called for North Korea to return to negotiations in the Six-Party Talks, which include South Korea, North Korea, China, Japan, Russia and the United States.
The Six-Party talks, which took place from 2003-2009, resulted in a joint statement on de-nuclearisation. North Korea also dismantled its plutonium-producing reactor as part of the process, although it has subsequently restarted the reactor.
Resolution 1718 was unanimously adopted by the UN Security Council on October 14, 2006, shortly after North Korea's first nuclear test on October 9.
Resolution 1718's Principal Provisions
Resolution 1718:
Demands North Korea refrain from further nuclear or missile tests.
Demands North Korea return to the NPT.
Decides North Korea shall suspend all ballistic missile activities.
Decides North Korea shall abandon its nuclear program in a "complete, verifiable, and irreversible" manner.
Decides North Korea shall abandon all WMD activities.
Calls upon North Korea to return to the Six-Party Talks.
Resolution 1718's Principal Sanctions
Member states are prohibited from the "direct or indirect supply, sale, or transfer" to North Korea, of:
Heavy weaponry, such as tanks, armored vehicles, large caliber artillery, combat aircraft, attack helicopters, warships and missile systems
Spare parts for the above mentioned heavy weaponry
Materials and technologies that could contribute to the country's WMD programs and ballistic missile related activities, as set out in prior Security Council documents
Luxury goods.
Conclusion
Kim Jong Un's ambitions are red alert for the entire Asia and the USA. This has the ability to even affect the on-going Russia-Ukraine conflict; credits to the close relations Kremlin has with Pyongyang.
The spy satellites and ballistic missiles are just the tip of the iceberg. They showcase how the readiness of the country in case of any war hysteria.
Russia first and North Korea now have basically just proved how fragile the UN and NATO resolutions are; it proves that against sheer power rules bend. Is there even a need to have these security organisations when they cannot stop the powerful?