At the 69th National Film Awards, Indian President Droupadi Murmu honored veteran actress Waheeda Rahman with the Dadasahab Phalke Award. The actress became emotional during the ceremony. The happiness was very well seen on her face.
Dadasahab Phalke award is the highest Indian award in the cinema world. It is annually presented at National Film Awards organized by the Ministry of Information and Broadcasting. The awardee is selected by committee consisting eminent people from Indian cinema.
The award consists of Swaran Kamal (golden lotus) medallion, shawl and a cash price of 1,000,000 Indian rupees.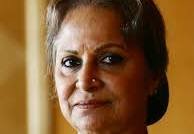 Awards won by Waheeda Rahman
Waheeda Rahman was born on February 02, 1938, in Chengalpattu in Tamil Nadu. She has won 4 awards in cinema for her journey as an actress. She won the Filmfare Award in the year 1967 for Best Actress in Film Guide, Best Actress in Film Neel Kamal in the year 1969, lifetime achievement Award in the year 1995, and the National Award as Best Actress in 1971.
The red carpet was extravagant with the presence of great personalities like Waheeda Rehman, the Indian president, and many other talented actors and actresses. Waheeda Rehman thanked her family and her fans for the entire cinema journey and asked her youthful fans to follow their hearts and keep on working hard.
With the coincident of the ceremony day, the actress was announced as the recipient of the Dadasaheb Phalke Award on the birth anniversary of veteran actor Dev Anand. He was Waheeda Rehman's first co-star in her Hindi debut, CID. They had done several movies together; among them, the most successful one was 'Guide'.
Journey to Dadasahab Phalke Award
In her life journey, she is a Padma Shri and Padma Bhushan awardee. Waheeda ji has set an example for the young upcoming talents in the film fraternity to work with dedication, commitment, and the strength of a Bharatiya Nari who can achieve the highest level of professional excellence among other fellow actors and actresses.
The Indian Parliament recently passed a historic Nari Shakti Vandan Adhiniyam. Waheeda Rahman being awarded this lifetime achievement award is a beautiful tribute to one of the leading exemplifying women of Indian Cinema and one who has dedicated her crucial part of life to film art and the greater good of society.
The 69th National Film Awards showcased one of the very pleasant moments as everyone was very delighted to watch Indian President honoring Waheeda Rahman with Dadasahab Phalke Award. This was very motivating to see two strong women standing on a large platform and one facilitating the other.